Date of Stay: October 18-19, 2014
RATING (Scale of 1 to 10)
Condition and Cleanliness: *******
Staff Performance: ******
Food and Beverage: *******
It was Jandy's 28

th

birthday and, as a surprise and much appreciated treat, my daughter Cheska booked us, via Deal Grocer, in an iconic aquarium-themed, third floor Aqua Room (Room 3212) at Hotel H2O, the only one of its kind in the country. This chic urban getaway is located behind the Quirino Grandstand at Rizal Park, is noted for its
iconic aquarium-themed Aqua Room, the only one of its kind in the country.
L-R: the author, Jandy, Kyle and Grace
The packaged included a set breakfast for two.The hotel itself shares the same entrance as the Manila Ocean Park and we had to take an elevator ride to the 3rd floor for check-in. The

team

at the

front desk were friendly.
The hotels' fabulous Aquarium rooms and suites are luxuriously appointed, chic and modern, with soft, crisp, lush linens and pillows, and ultra-comfortable beds. Its upscale, meticulously chosen features and amenities include a wall-mounted, 37″ flat screen LCD cable TV; IDD telephone; coffee/tea making facility, electronic locking system and work desk with high-speed internet access.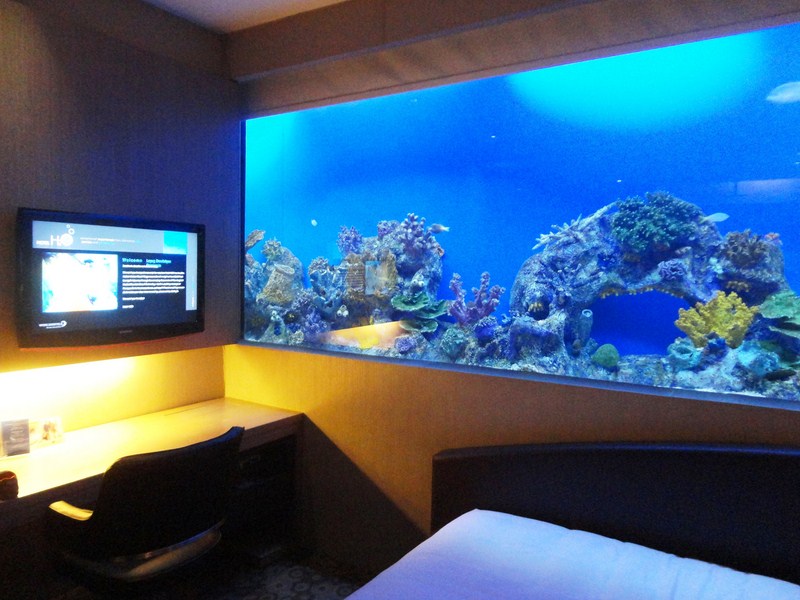 It is also the first hotel I know that that says that snacks (soft drinks in can, oatmeal cookies and peanuts) inside and above the personal ref is complimentary. The free shopping bag inside the closet is also a nice touch.

O

ur

quite small,

25-sq. m.

room, more of a boutique hotel size, also didn't allow for another extra bed. However, t

he slightly larger Aqua Classic Room, with its sofa bed, could accommodate an extra person.

Our room also didn't have a window.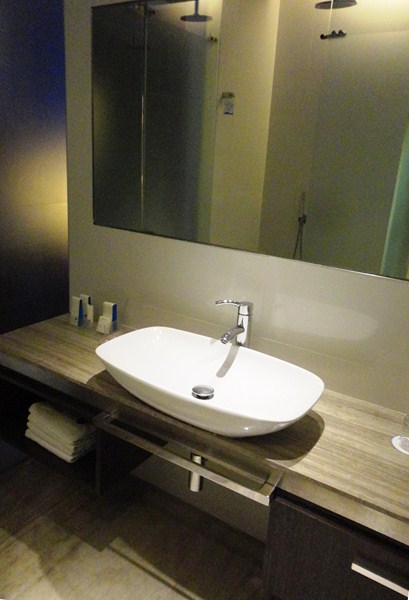 However, their glass-enclosed bathroom, with its rain shower head but no bidet, did

not allow for much privacy as

their

dual-purpose

glass enclosure (which doubles as the bathroom door), though frosted, was translucent. It was quite embarrassing to use in the presence of others and it is not a good idea if you are staying with a friend.
An old-fashion shower curtain would be a band-aid solution.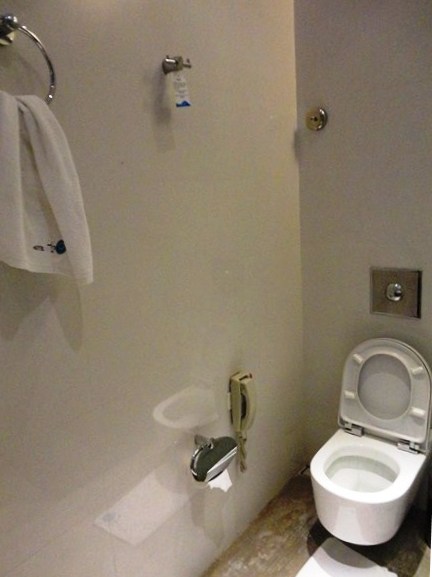 What sets this apart from other hotel rooms is the life-size, waist to ceiling high aquarium (with blue background and man-made coral) running along the length and breadth of room's main wall and spanning across all the Aqua Rooms, providing a relaxing window into the calm and mesmerizing beauty of the marine world.

A whole new and totally out of the ordinary experience that will surely be enjoyed by the whole family, young and old.
My grandson Kyle loved watching beautiful saltwater fishes of myriad colors, shapes and sizes gliding by while lying down on our queen-size bed. Their very soothing effect also lulled him to sleep. The aquarium lights are shut down by 9 PM and are put on again at 6 AM. There is a remote control which lowers a screen to cover the aquarium.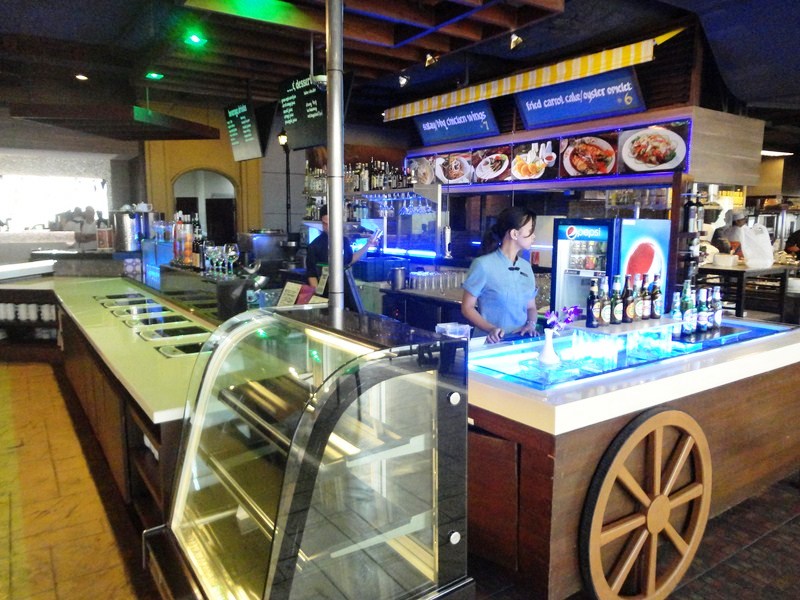 We all savored the best of Southeast Asian cuisine, for lunch and breakfast the next day, at Makan Makan Asian Food Village, Hotel H2O's main food and beverage outlet located at the second floor. Here, we could choose from more than 150 culinary delights from Singapore, Malaysia, Indonesia, Thailand, China, Japan and the Philippines.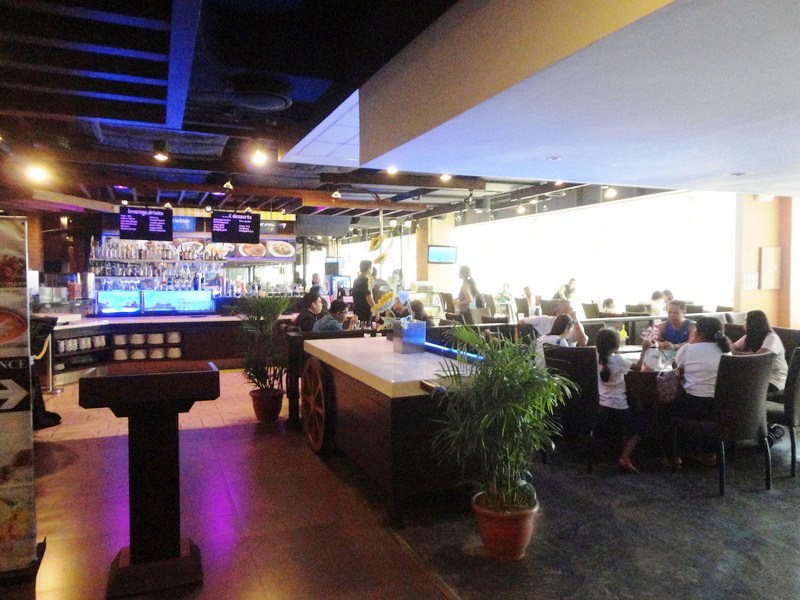 Some of the quintessential Asian favorites prepared fresh everyday by the chefs include roti prata, dimsum, coffee spareribs, chili crab, Hainanese chicken rice and sticky rice with mango. Just off Makan Makan is its 77-sq. m. function room, ideal for small gatherings of up to 50 people in a banquet set-up or 60 for cocktails. Its floor-to-ceiling glass panels provide a soothing view of Manila Bay.
The Club Lounge, a relaxing nook perched on the third floor, is a cozy rendezvous point with many comfortable lounge chairs. Here, you can savor a cup of coffee or hot chocolate plus a slice of cake while browsing a newspaper and

enjoying the commanding and sweeping view of Manila Bay and the city's skyline. You can also

surf the internet via computer terminals. Come evening, the lounge transforms into an after-hours hot spot, with wine, beer and cocktails flowing, During weekends, cool lounge music is provided by the Metro Manila's finest acoustic and jazz bands.
Because the hotel is located right at the entrance to the adjoining Manila Ocean Park, there are lots of shops and food outlets (Pancake House, North Park, Dencio's, etc.). It is also walking distance from Rizal Park and Intramuros.