After checking in and freshening up at our rooms at Panglao Bluewater Resort, we all proceeded for dinner at Aplaya Restaurant. The restaurant is just a 2-3 minute leisurely walk from our rooms but we chose to go there via a golf cart. We traveled along a bamboo-lined gravel path, to a small bridge, underneath which is a small pond, leading to the clifftop restaurant.
Dinner wasn't served in the restaurant though. Instead, tables were set up along the beach for us to experience some al fresco dining with the cool white sand beneath our feet. Nice touch.
The menu that night was even nicer - eggplant salad, spring rolls, grilled squid, fried rice topped with lechon kawali, pinakbet and chicken inasal and pork humba. All these I washed down with fresh buko juice. Later on, we were served with glasses of red wine.
Come morning, the guys and I again took the golf cart to the restaurant, this time for breakfast inside the restaurant. Choices here include ham, bacon, congee, pancakes. siomai, ramen, sotanghon soup, plain or fried rice, dilis, fish fillet and chicken. They also have several kind of bread to choose from such as ube ensaymada, croissant, soft roll, cinnamon roll and pan de sal.
They also have several choices of jam. One can request for their eggs either boiled, sunny side up or scrambled. They also have rice cake, puto, delicious native hot chocolate, sausage, cereals and milk plus fruits and juice like orange, watermelon and pineapple.
The restaurant's ceiling is made from recycled pieces of rattan, arranged in a repetitive pattern, which are "unusable" short tips from the manufacture of outdoor furniture. An infinity pool is located beside the restaurant.
After our Pamilacan Island tour that day, we had a late lunch at Aplaya. Served ala carte with generous servings, it included the signature Bluewater salad and the main course of hinalang na manok, pansit canton, lechon kawali and steamed rice.
The restaurant also serves, among others, their version of spicy chicken curry, ube cake with vanilla ice cream, adobo rice served in bamboo, nasi goring and kinampay - a specific variety of ube (purple yam) found mostly in Bohol.
On Saturdays, 6 to 10 PM, the restaurant also offers a Barrio Fiesta theme dinner buffet (PhP900 net per person) of Boholano specialties (including the popular lechon kawali, lechon manok and adobong baboy plus desserts such as biko and leche flan) and featuring a colorful and upbeat Philippine cultural dance show (starts 7:30 PM) with dancers in FIlipiniana costumes and a rondalla band.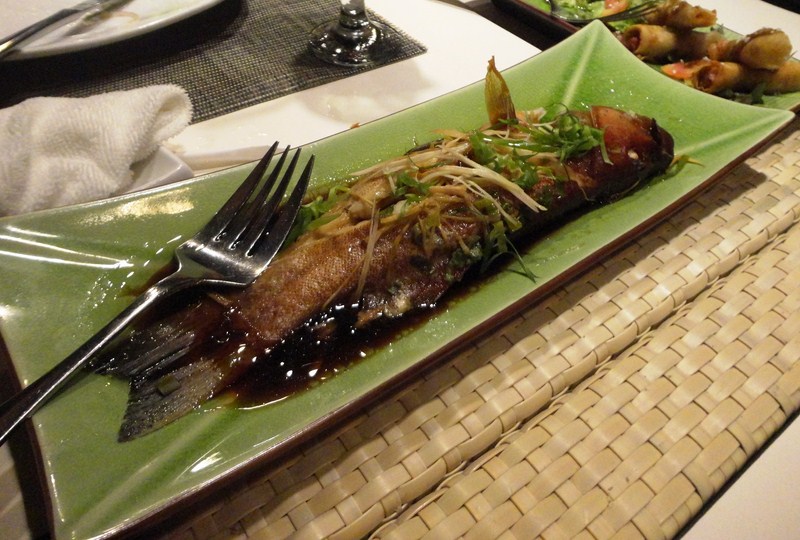 Panglao Bluewater Resort: Bluewater Rd, Sitio Daurong, Brgy. Danao, Panglao, 6340 Bohol. Tel: (038) 416-0702 and (038) 416-0695 to 96. Fax: (038) 416-0697. Email: panglao@bluewater.com.ph. Website: www.bluewaterpanglao.com.ph. Manila sales office: Rm. 704, Cityland Herrera Tower, Rufino cor. Valera Sts., Salcedo Village, 1227 Makati City, Metro Manila. Tel: (632) 817-5751 and (632) 887-1348. Fax: (632) 893-5391.