Date of Stay: April 28-May 1, 2015

RATING (Scale of 1 to 10)
Condition and Cleanliness: ********
Staff Performance: ********
Other Amenities: ******
Value for Money: *******
The 5-storey, contemporary Ninong's Hotel & Restaurant has 40 clean and comfortable airconditioned rooms with double or family sized beds;
private bath with
bidet and
hot and cold shower; telephone; intercom; work desk and LED cable TV. Rooms range from Standard, De Luxe Suite, Executive Suite, Superior De Luxe and Family Suite (with 3 beds), all
with free wi-fi. Some rooms have views of majestic Mayon Volcano. Room rates range from
PhP1,800 to PhP4,000.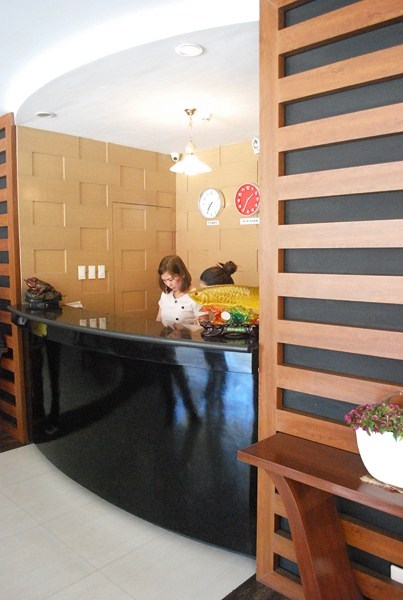 Front Desk
Designed by Arch. Jeroby Ruiz Sevilla, this modern style, space saver hotel has a brightly colored exterior and all its stunningly modern rooms, conceptualized by Interior Designer Ms. Orleen Mojal Enriquez, are decorated in a Minimalist manner, with monochromatic colors and dim lights to emphasize the rooms' spacious interiors.
Opened last October 20, 2013, this relatively new, elegant and classy boutique hotel with an unusual name (
Ninong
means "godfather") started out way back in 2000 under the name Ninong's Bar and Food Haus (with
nipa
hut and wooden tables and chairs) until it was converted by owner Mr. Roger Vibal into a hotel.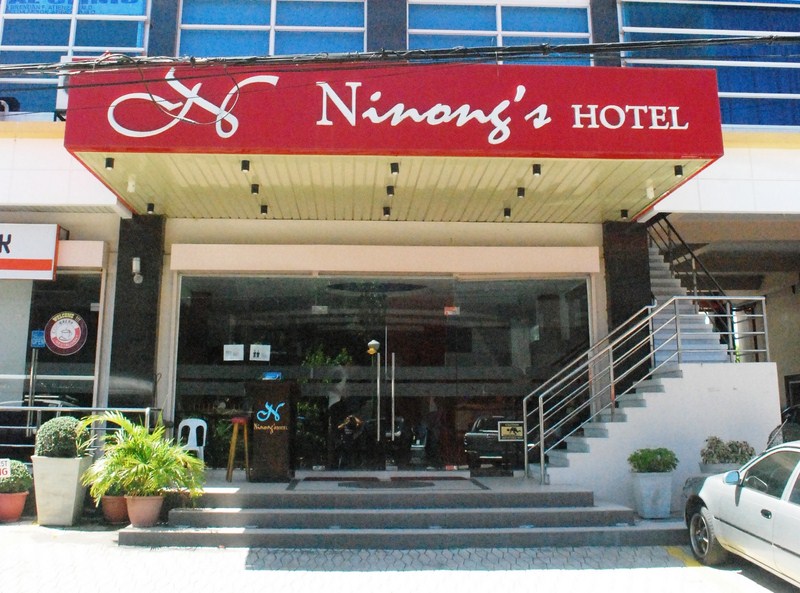 Hotel entrance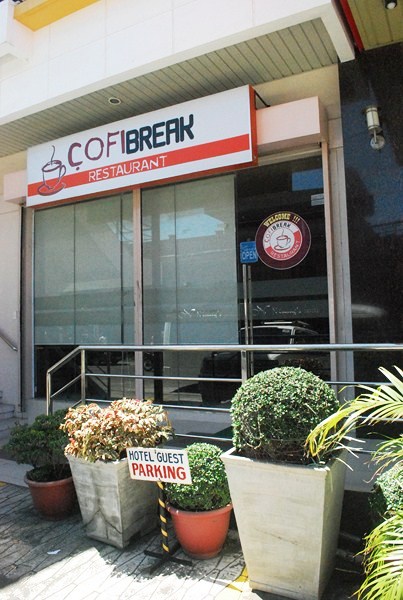 Cofibreak
Cofibreak, the ground floor restaurant and coffee shop,
serves buffet breakfast (smoked fish, longganisa, sausages, scrambled egg, coffee, garlic rice, etc.) and, for lunch and dinner, a fixed menu of mouth-watering Bicolano cuisine as well as the signature Ninong's pansit guisado, the Ninong burger and the pasta de diablo.
You can relax and unwind at Xponent, the second floor music bar.
The hotel also has 24-hr. front desk, 200-250-pax grand ballroom, and 15-20-pax board room.
They also offer room service, laundry, dry cleaning and complimentary airport transfers (a 15-min. drive away) via van. The staff was professional, friendly and courteous.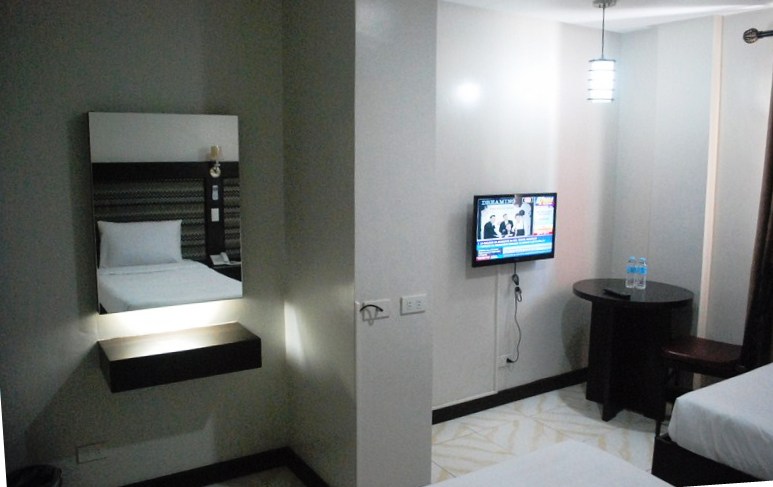 Xponent
Ninong's Hotel, strategically located at a highly commercialized area in front of Robinson's Supermarket, is a few steps away from the famous Small Talk Café, Bicol Shirt Store, Mang Inasal, the 24-hr. Bigg's Diner, Ysabelle's Restaurant and Jollibee.
Also nearby is the big Albay Freedom Park, the Albay Astrodome, Divine Word College, the Legaspi City Hall, the Cathedral of St. Gregory the Great and the Albay Provincial Capitol.