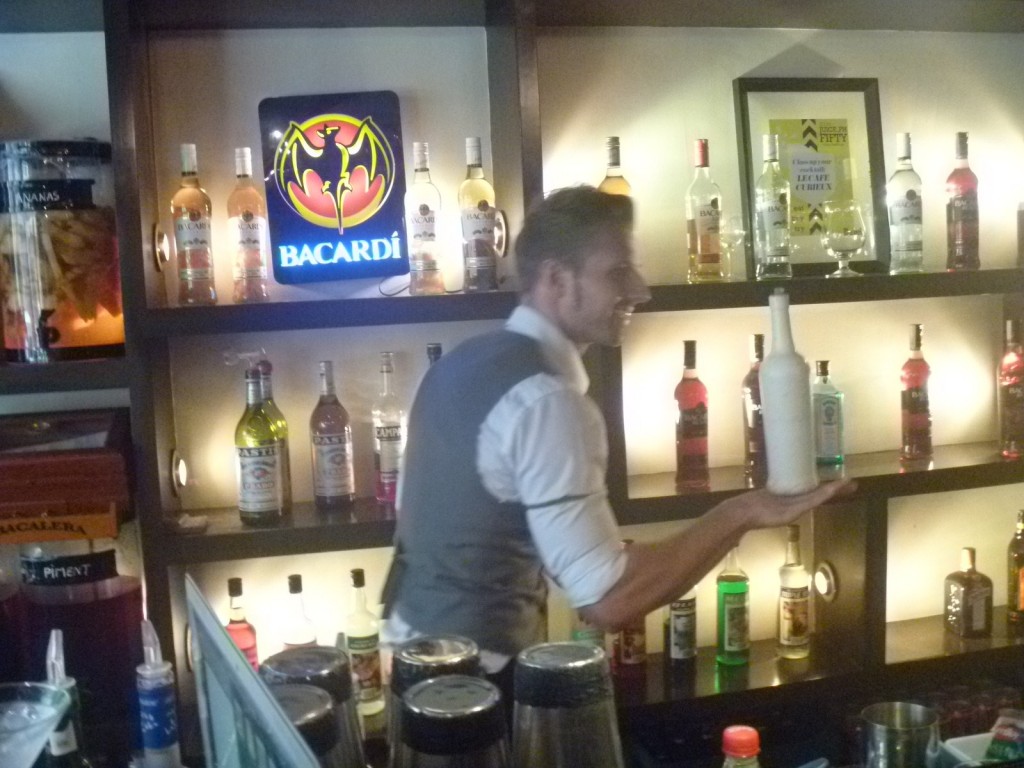 Tony balancing a liquor bottle ....
The highlight of the FlairTOURtainment was the hands-on session on London-style mixology and
flair bartending
(flairology), showcasing Bacardi-based cocktails, conducted by Mr. Anthony White. This was to be followed by a cocktail making competition to be participated in by the students.
Barman Anthony White's hobby-turned-career in "flair bartending" (a combination of mixology and flairing or, for those hearing this lingo for the first time, it is extreme bar tending with a show) started at a very young age of 18 years when, inspired by the bar tenders juggling in T.G.I.F., he also found out he had the skill and the ability to juggle, balance, distract, and entertain from behind a bar counter.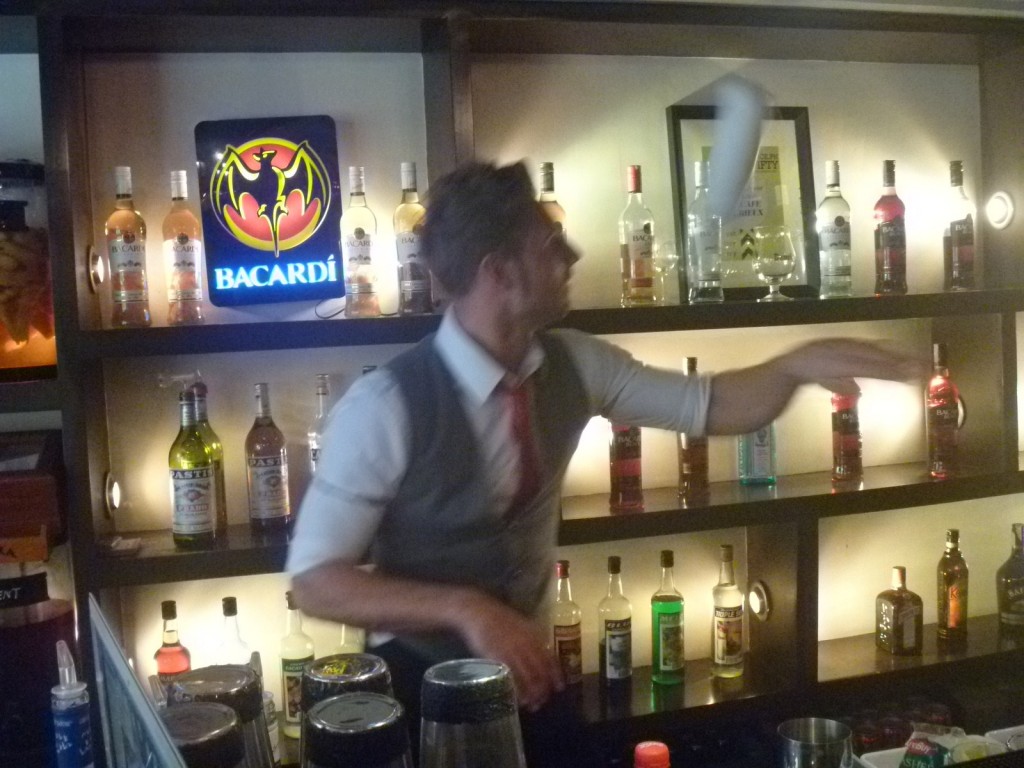 .... then flipping it
Working in the pubs in London, he soon learned the tricks of the trade and Anthony was soon showing off his flairing skills at the Octopvs Crawley Bar (in Horsham town center) and Old Explorer Bar, juggling three vodka bottles at the same time, setting on fire a row of drinks and flipping bottles from hand to head.
Loving the Philippines' tropical weather, fantastic food and friendly people, Anthony decided to live in the country, further mastering the art by working at Hey Jude! in Boracay for many years.
He is now making a name for himself in Manila, working in "Red Rabbit" a speakeasy inside Bugsy's in Salcedo Village in Makati City. The much sought-after and talented Anthony also freelances for events.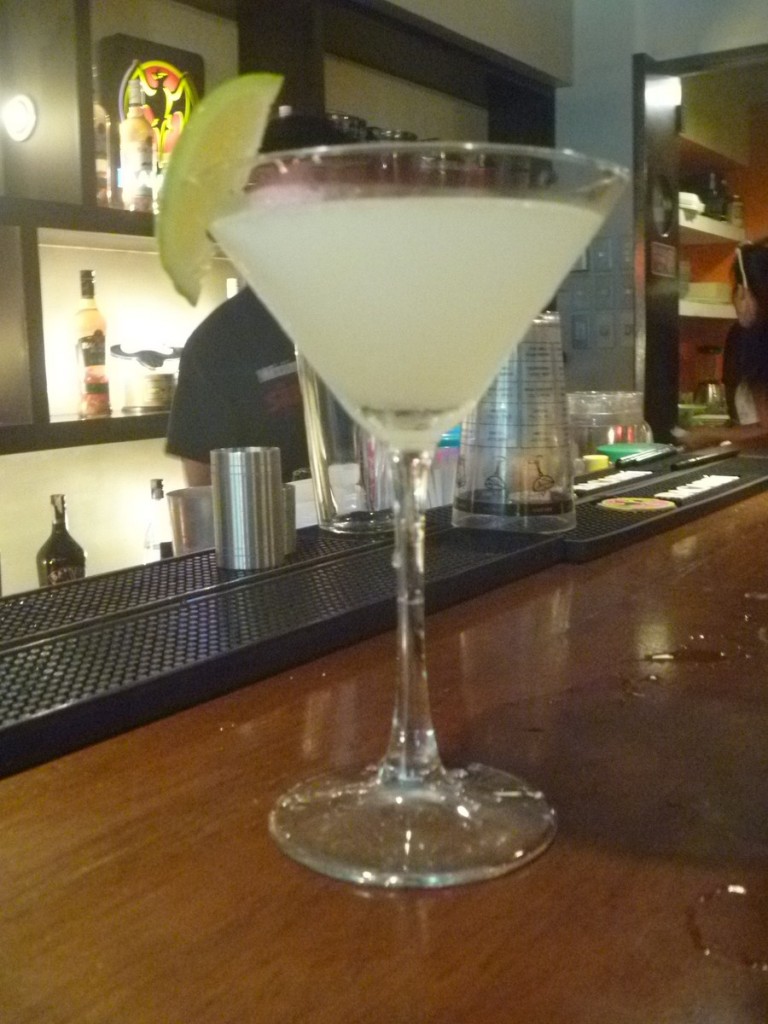 A daquiri prepared by Tony
Flairtending (short for "flair bartending") had its beginnings in the late 19th century when barman Jerry "The Professor" Thomas

mixed an original cocktail called the

Blue Blazer

by pouring fiery streams of boiling water and flaming whiskey.
In 1988, flairtending was also prominently featured in the Tom Cruise film Cocktail.
During the session, Anthony entertained us with his showmanship, twirling, throwing and catching bar tools (cocktail shakers, etc.) and liquor bottles in tricky, dazzling ways, in between making cocktails, using skills commonly associated with jugglers.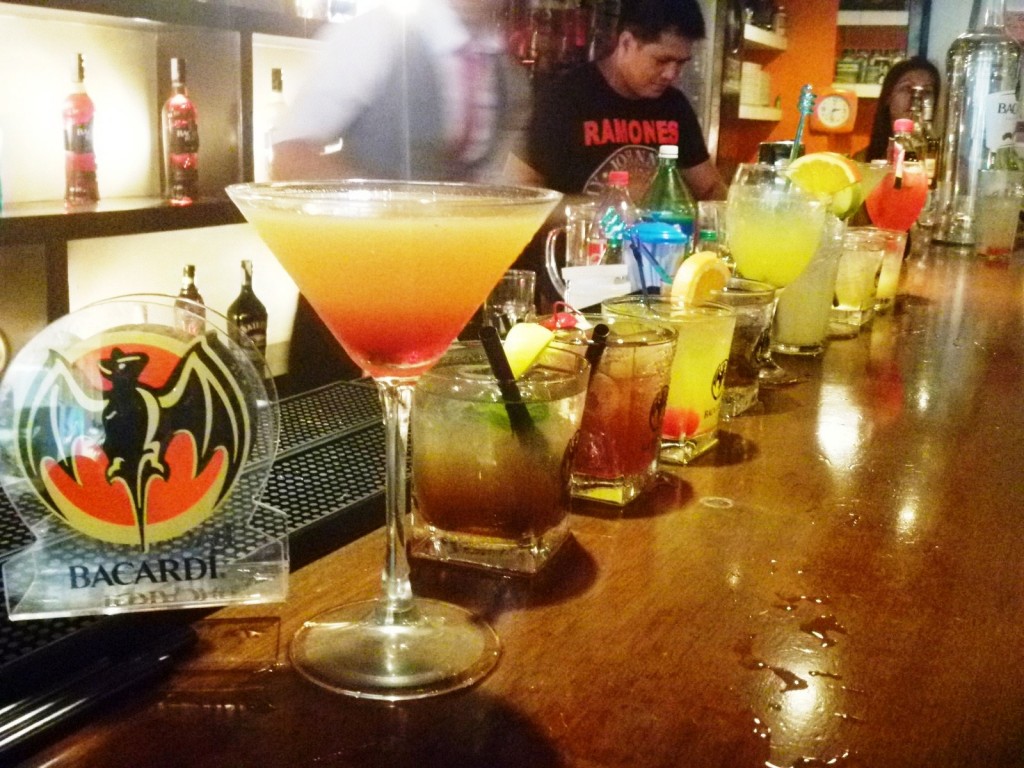 The 10 entries
After this, he further dazzled us with his mixology knowledge by mixing up mind blowing and spectacular cocktails such as a mojito, cuba libre, daiquiri, vodka martini and tom collins.
Later, it was the turn of 10 student participants to try out mixology as they prepared their own signature cocktails using the ingredients at hand (Bacardi rum, lemons, melons, ginger, etc.).
Of the 10 entries, 3 of the cocktails were to be selected by a panel of judges (Anthony, Melissa, Kris and J.R.) as the winners. Winners were awarded with a bottle of Bacardi flavored rum and a stainless steel Bacardi ice crusher.