The FlairTOURtainment, an experiential, educational and entertaining introductory workshop on Bar Management for students of Tourism and Culinary Arts, was held at Le Café Curieux Resto-Bar. In attendance were 10 culinary arts students from La Consolacion College Manila (LCCM), under Chef Jeremy C. Malcampo, and 3 Far Eastern University (FEU) students. Also joining them were Mr. Jon Ryan Ng and Atty. Kristine Dy and also covering the event was fellow blogger (Lifestyle, Food, Health and Wellness) and fellow blogger and friend Mr. Fernando "Rannie" Bernardo.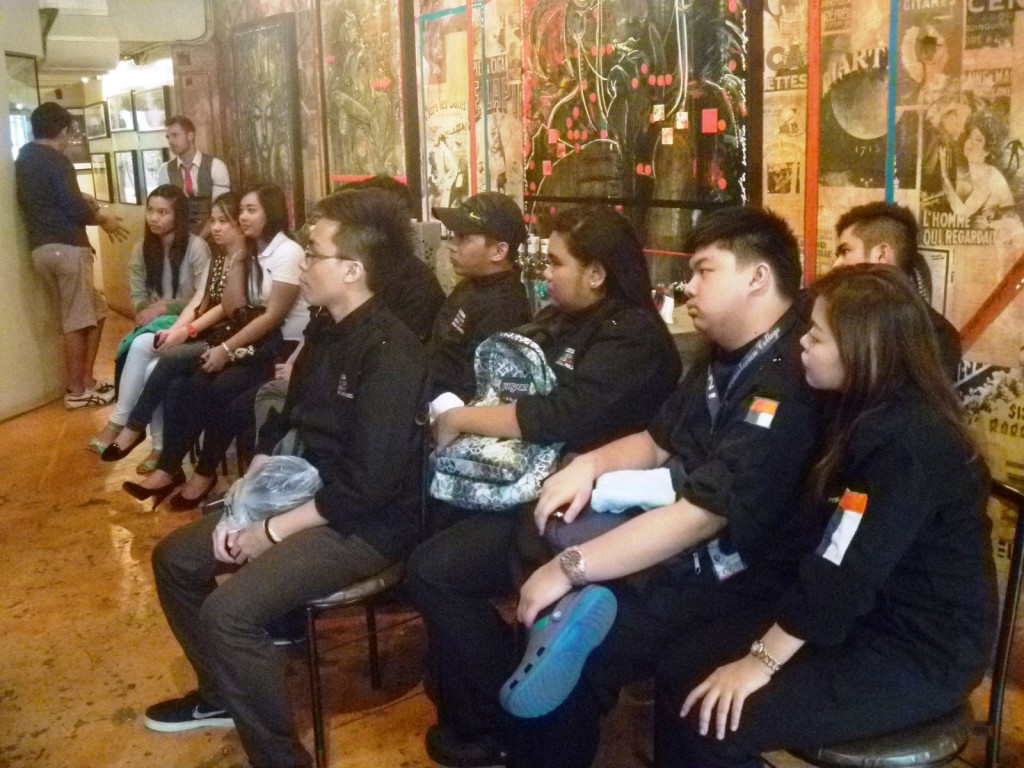 Student participants from LCCM and FEU
A morning hands-on session on event and product photography was conducted by Mr. Rogine De Mata Rogelio.
Rogine is an events manager at Shadowfax Events and Marketing; a former Pilipino Mirror beat reporter and correspondent covering the Department of Tourism, Department of Health and Malacanang Palace; and owner of Forever Clothing and U Pose I shoot Photography.
During the session, Rogine discussed important camera settings; the "Rule of Thirds" (a simple principle that will help you to take well balanced and interesting shots); how to capture that special moment with your camera; the differences and advantages of DSLR (digital single lens reflex) cameras over point and shoot cameras; the importance of monitoring your camera's actuations or shutter count (the amount of photos your camera has taken); among other things.
Le Cafe Curieux Resto-Bar: G/F, Bel-Air-SOHO Bldg., Polaris cor. Badajoz St., Poblacion, Makati City. Mobile number: (0905) 482-6371.