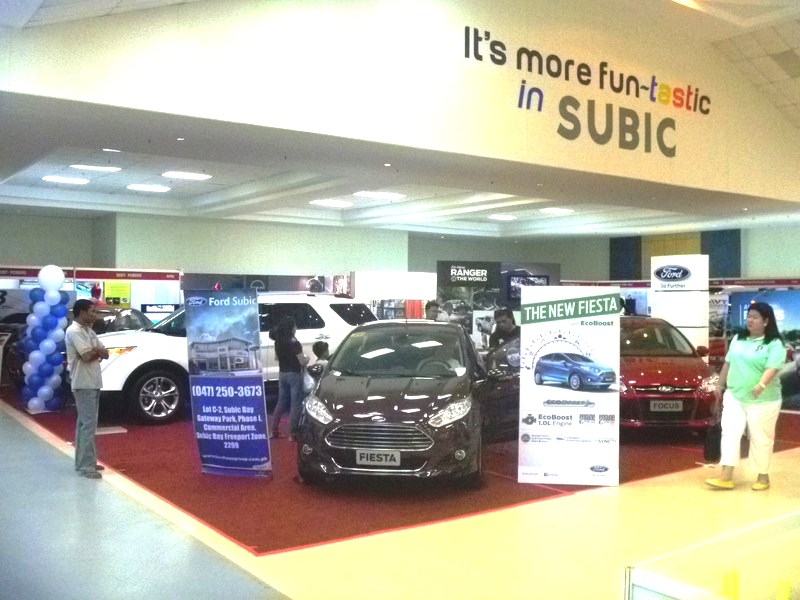 Drive Tourism Auto Show
Immediately following the Asia Pacific Drive Tourism Conference held at the Subic Bay Exhibition and Conference Center was the 3-day Auto and Travel Show, also held within the same venue. On public display were a number of "dream cars" (until the 1970s, a common US name for concept cars or show cars).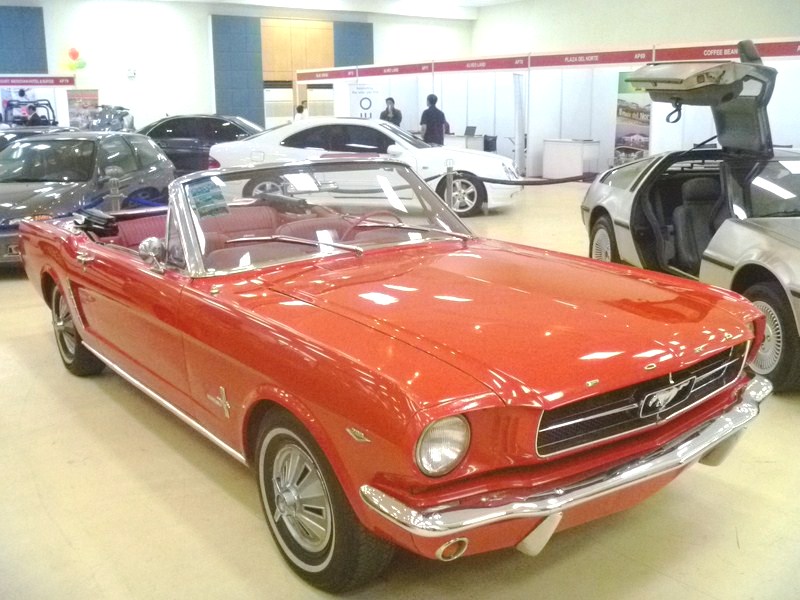 A Ford Mustang convertible
They include high-performance, 2-door muscle cars with powerful engines - a 2014 Ford Mustang GT Premium, a Lamborgini Performance LP 570-4, a McLaren MP4-12C and a Lexus LFA.
Also on display are racing karts (including one driven by 14 year old Seaoil DC and Kosmic Japan karting champion Gabriel "Gabe" Tayao Cabrera) and out-of-production classic cars (including two Ford Mustangs convertibles and an iconic DeLorean DMC-12); all of which will appeal to car enthusiasts.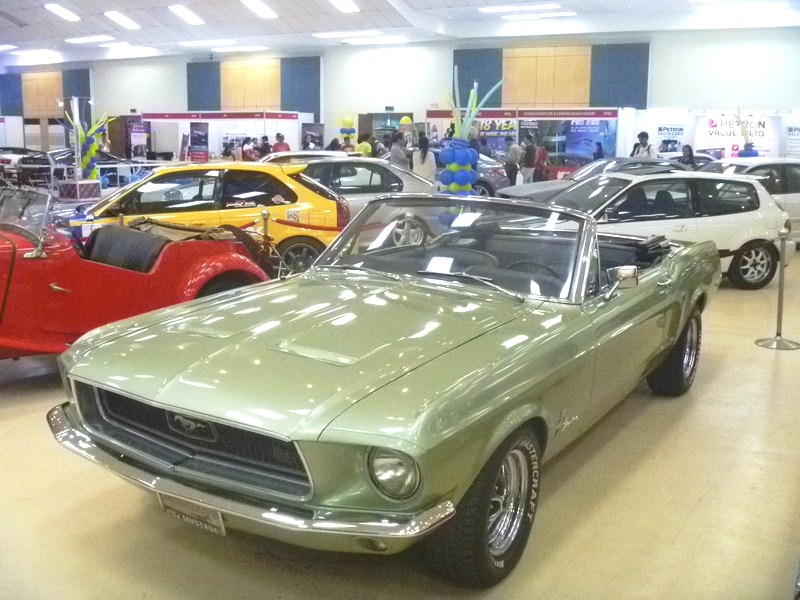 2014 Ford Mustang
The four aforementioned muscle cars were the stars of the show.
The apple green colored, athletic-looking 2014 Ford Mustang, is a modern interpretation, achieved by Ford designers, of classic, iconic Mustang heritage.
Its sculptured, muscular exterior design features continuous, flowing lines that emanate from highly-sculpted surfaces, adding more "muscle" to this car.
The Mustang's equally muscular, 5.0 power plant, with its high-energy coil-on, plug design designed to work in harmony, features twin independent variable camshaft timing (Ti-VCT), an aluminum engine block, cylinder heads designed to optimize airflow, and cold-air induction. It delivers 420 horsepower and 390 lb.-ft. of torque, with a compression ratio of 11:1. Then there's the exhaust which delivers a distinctive, throaty and purely Mustang roar.
The rear wheel drive McLaren MP4-12C, whose design was unveiled on September 8, 2009, was launched in 2011. Powered by a mid-mounted bespoke McLaren M838T 3.8-litre V8 twin-turbo engine, it also has a revolutionary "Carbon MonoCell" carbon fiber chassis. The 12C also features Formula 1-inspired technology such as brake steer (which brakes the inside rear wheel during fast cornering to reduce understeer) and a 7-speed, Seamless Shift dual clutch gearbox (SSG) with Pre-Cog technology (a system where a driver can half-pull the paddle shifter behind the steering wheel to get the transmission ready for an upshift, then instantaneous gear change once the paddle is fully pulled).
The Lamborgini Gallardo (named after a famous breed of fighting bull) LP 570-4 Spyder Performante, a convertible version of the LP 570-4 Superleggera, uses the same 570 PS (419 kW; 562 horsepower) 5.2 L V-10 engine. It has a curb weight of 1,485 kgs. (3,274 lbs.) and can go from 0 to 100 kms./hr. (62 mph) in 3.4 seconds, to 200 kms./hr. (124 mph) in 12 seconds and has a top speed of 324 kms./hr. (201 mph).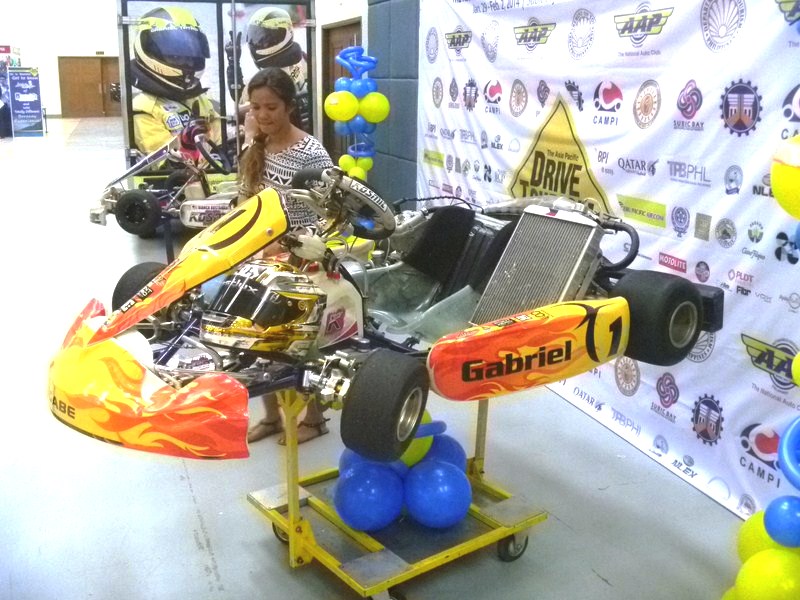 Go kart of Gabriel "Gabe" Tayao-Cabrera
The 2-seater, 2-door Toyota Lexus LFA, the second Lexus model in the F marque line of performance vehicles, following the IS F, is one of the most expensive Japanese road cars ever built.
It features a new 4.8L V-10 engine; a 6-speed automated sequential gearbox; and a body composed, by mass, of carbon fiber-reinforced polymer (CFRP). The LFA went into production in late 2010 and ended in December 2012, with 500 vehicles completed, the final version being a Nürburgring Package model.
Also worthy of note in the car show is an antique, British-made, red colored MG (initials for Morris Garages) with its traditional vertical grille. This 2-seater, body on frame open convertible sports car was produced in a sequence from 1936 to 1955.
The unusual DeLorean DMC-12, featuring gull-wing doors, a rear-mounted engine and a fiberglass "underbody" (to which non-structural, brushed SS304 stainless steel body panels are affixed), became iconic for its appearance as the modified "Time Machine" featured in the Back to the Future film trilogy (starring Michael J. Fox). Only about 9,200 DMC-12s were produced between January 1981 and December 1982.
The next day, we saw more cars, this time in motion, as a Dream Car motorcade passed by Subic's landmark Spanish Gate. Four of these cars carried local and international beauty contest winners who more than held their own competing for attention with the cars they rode on.
A Hummer H2 SUT carried three 2013 Mutya Ning Angeles beauties, a BMW convertible with 2013 Ms. Tourism International winner Ms. Angeli Dione Gomez, and two Mercedes Benz convertibles with 2013 Mutya ng Olongapo winner Ms. Faith Garcia and 2014 Mutya Ning Angeles winner Ms. Zaina Chandley respectively.
Other cars that participated in the motorcade included a 1947 MG 2-seater, body on frame convertible open sports car (this time colored blue green), two Ford Explorer SUVs, 2 Toyota Hilux compact 4-door double cab pickup trucks, a box-type Mitsubishi Lancer, another Mercedes Benz sedan (this time a hard top), and a Toyota RAV 4 SUV.