The highlight during the first day of the first Asia Pacific Drive Tourism Conference, Auto and Travel Show, held at the Subic Freeport Zone, was the groundbreaking of the Subic AAP Children's Road Safety Park. This park, the first of its kind in the country, supports the United Nations Decade of Action for Road Safety 2011-2020.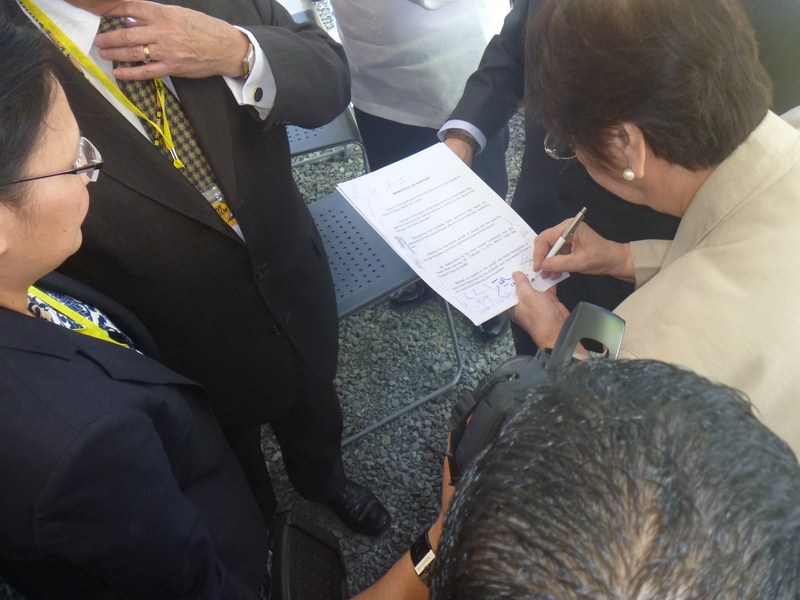 Dr. Gabor signing the manifesto
It will serve as an educational stage to teach the culture of road safety and discipline among youngsters (ages 7-14) so that they grow up to be become better citizens by reminding them of "the value of life and their role as models to the youth."
Also serving as tourism destination and a model of similar projects envisioned to be set up in every region, the park will cater to three groups - carters (which represent the cars on the road), bikers and pedestrians; all interacting with each other while playing their different roles. Operating all year round, it will be equipped with roads, signs and traffic lights.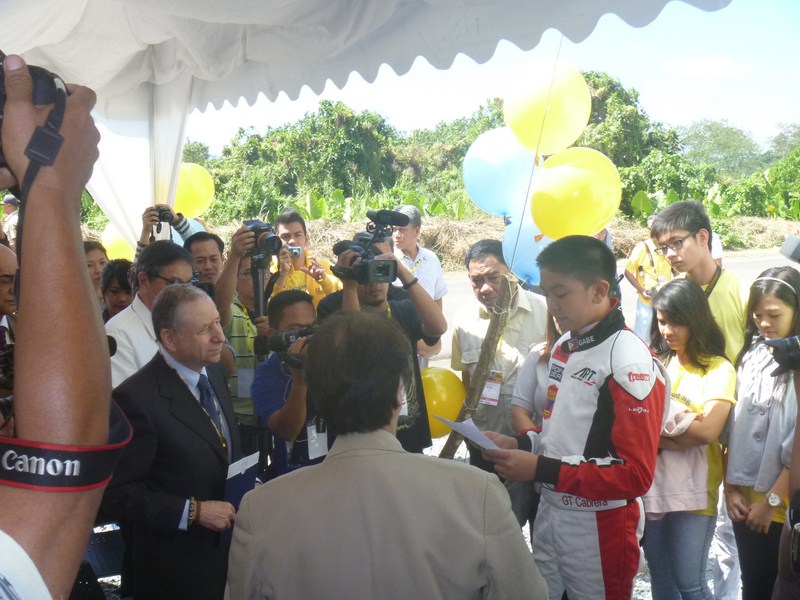 Karting champion (in racing suit) Gabriel
Tayao-Cabrero
The groundbreaking was attended by DOT Secretary Ramon R. Jimenez, Jr.; Paris-based Federation Internationale de l'Automobile (FIA) president Mr. Jean Todt; Automotive Association of the Philippines (AAP) president Augusto Lagman; SBMA Chairman and Administrator Mr. Roberto Garcia; former Tourism Secretary and now AAP director and International School of Sustainable Tourism president Dr. Guillermina "Mina" T. Gabor;

Automobile Association of Upper India president

T.K. Malhotra

;

FIA Region 2 president Mr.

Ross Heron

;

Asian Development Bank transport specialist Mr. Nana Soetantri

; Mr.

Peter O'Neill

of the United Nations Economic and Social Commission for Asia and the Pacific; and

the tourism ministers of Palau (Mr. Fleming Umiich Sengebau), and Bhutan (Mr. Thuji Dorji Nadik).
They all signed a manifesto supporting the United Nations Decade of Action for Road Safety 2011-2020 and this document was enclosed in a time capsule which was then lowered into the ground. Ms. Gabor and 14 year old Seaoil DC and Kosmic Japan karting champion Gabriel "Gabe" Tayao Cabrera also delivered short speeches during the ceremony.
Subic AAP Children's Road Safety Park: Corregidor Ave., Triboa Bay Area, Subic Freeport Zone, Zambales.