Teaser poster
The film 47 Ronin is a fantastical take (being set in a world of witches and giants) and stylized version of a story of a real-life group of early 18th-century leaderless and outcast Japanese samurai who avenged the murder of their master. Stories, plays and other dramatic performances of the real 47 Ronin story are commonly referred to, in Japan, as Chūshingura ("Treasury of Loyal Retainers").
This 2013 Universal Studios epic 3-D fantasy and action film by visionary director Carl Erik Rinsch (The Gift), was produced by Pamela Abdy

(

Identity Thief,

upcoming

Endless Love

),

Scott Stuber (Ted, Identity Thief) and Eric McLeod (Mr. & Mrs. Smith, Austin Powers film series) and was based on a screenplay by Chris Morgan (The Fast and the Furious: Tokyo Drift) and Hossein Amini (The Wings of the Dove). It started filming in Budapest (Hungary) on March 14, 2011; moved to Shepperton Studios in London (United Kingdom) in late August 2012; and additional filming was done in Japan.
It stars Keanu Reeves as the interesting, mysterious and denigrated outcast and former slave Kai, the orphaned son of a British sailor and a Japanese peasant woman but believed to have been raised by demons. The very monotone Keanu, with his intensely neutral screen persona, fits in and is perfectly believable with this tailor-made role, playing an outsider who receives no respect from the other characters (he is disgraced even when he displays great courage) but is still devoted to social codes of selflessness and rank, rendering a solid performance in this tragedy based on unrequited love, arcane intrigue and social mores. Subdued and stone-faced much of the time, he gives his character strength in the face of, what seems to be, insurmountable adversity. Coupled with his Matrix sort of appearance here, Keanu Reeves looks like a movie star again.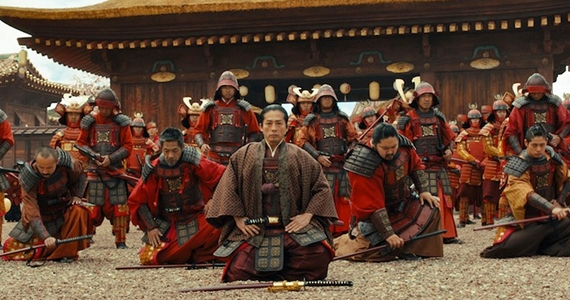 Hiroyuki Sanada (Oishi)
Kai joins a group of rōnin, led by Kuranosuke Oishi (Hiroyuki Sanada), who seeks vengeance on Lord Kira Yoshinaka (Tadanobu Asano), a ruthless and treacherous rival daimyo (The historical Kira, however, was a protocol officer of the shōgun, not a daimyo.) who, aided by the sorceress Mizuki (Rinko Kikuchi), engineers the shaming of their master Lord Asano Naganori (Min Tanaka) by goading him into attacking him, an act that ultimately led him to commit seppuku (ritual suicide) and the banishment of Oishi and his retainers by the shōgun Tsunayoshi (Cary-Hiroyuki Tagawa).
To restore honor to Ako (now a small fiefdom in western Honshū), their homeland, and get their revenge (katakiuchi, 敵討ち), the 47 selfless, noble, proud but compassionate ronin embark, after 2 years, upon a journey that challenges them with a series of trials that would defeat most warriors.
I enjoyed watching this film as it brought to life the stunning landscapes and enormous and gritty battle scenes (similar to those seen in the 2000 film
Gladiator
, whose director
Ridley Scott
, was Rinsch's mentor), blended with fantasy-like elements seen in The
Lord of the Rings
epics, as they depicted the timeless, almost Shakespearean, 300 year old ronin story, often referred to as Japan's "national legend," in a way that's never been seen before by audiences here and abroad. Over the centuries, the ronin story has been embellished many times and this film version is no exception, with the addition of a
witch
(making it an epic battle of physical skill versus witchcraft), dragons, giants, orges and a half-breed (to provide a role for a Western actor) into the plot, presumably to placate a young audience.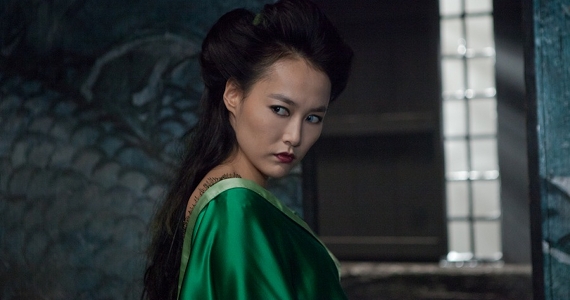 Rinko Kikuchi (Mizuki)
The actors' costumes in this Far Eastern costume drama, designed by Penny Rose (Pirates of the Caribbean), though based on culture (almost everybody was in a kimono), still had a kind of fashion twist as it was full of color.
Worth mentioning is the craftsmanship of the ornate and meticulously-crafted suits of armor worn by the samurai warriors which provide a history-based feel, bringing to life the Edo Period of feudal Japan.
The complex, well-crafted and ornate production settings were also riveting and a sight to behold as I was treated to one gorgeous sight after another where free form backdrops with exaggerated historical elements and fairy-tale tropes seem equally at home. They include the shadowy, ghost-haunted bamboo forest; the bevy of tethered ships that formed a floating den of iniquity; and the arena of death at the Pirates of the Caribbean-like Dutch trading post at Dejima where Kai, forced to repeatedly fight for his life with ogres in gladiatorial combat, is rescued by Oishi. The computer-generated imagery (CGI) characters were well-crafted and 3-D enhanced the look of the characters and the stunning landscape. Complimenting the lovely spectacle is a beautiful score by composer Atticus Ross.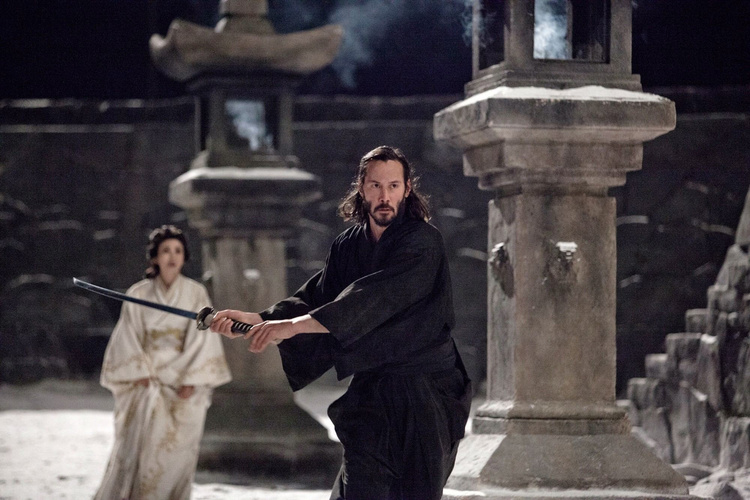 Kai battling Mizuki while Mika watches
As for the 5 major Japanese actors cast in the film (between March and April 2011), Rinko Kikuchi, as Mizuki the malevolent, shape-shifting witch with heterochromatic eyes and long, tentacle-like hair (used by her as an extra set of limbs) is, hands down, the film's absolute scene stealer and life of the party as she occasionally disappears into a swirl of colorful fabrics.
Tadanobu Asano and Hiroyuki Sanada also stand out. Mika (singer-actress Kou Shibasaki), Lord Asano's beautiful daughter and Kai's star-crossed love interest, is quite tepid. Her romance with Kai never gels with the rest of the narrative. T

he love interest at the

Tom Cruise

2003 film

The Last Samurai

was much better.

Finally, unlike at the aforementioned film (where Sanada also appeared but spoke in Japanese), I was a little disappointed by the fact that, in 47 Ronin, they spoke in English.
Despite the film's troubled history of production problems (disagreements between director and studio; adding of a second director for reshoots; shifting release dates; etc.); dark and mysterious setting and atmosphere; and lack of greatness,
47 Ronin
is still a well-crafted, visually sumptuous adventure film with a nice blend of action, fantasy and drama, that befits a good samurai tale, plus betrayal and romance. My sympathies with the ronin lay with me from the start and the quite riveting trials they faced (and there are many) made me become immediately involved with their quest.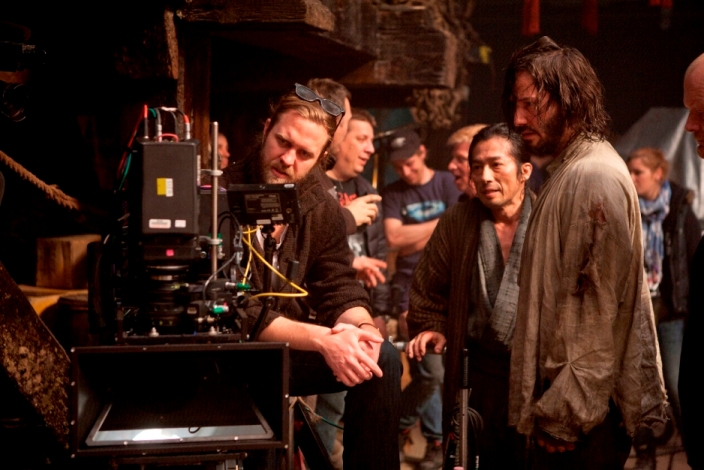 Director Carl Rinsch and Keannu
Also, despite the substantial negativity about this movie (it did not live up to the expectations generated by its astronomical budget of US$170 million plus it did poorly in Japan, of all places), very un-Hollywood ending (watch it to find out) and its share of flaws (some elements don't quite fit), 47 Ronin is still, very much, a watchable, serious but still refreshing rendition of a ronin's true inspiration in life - honor, loyalty and redemption. The addition of the supernatural element within the context of the film, objected to by purists, also did not overwhelm the story.
A movie's success at the box office is never an indication of its artistry. I have seen shoddy films make millions of dollars while well-crafted but misunderstood films, like
47 Ronin
, largely go ignored or unnoticed via the negative press surrounding it. This multi-colored (rich reds, deep purples, bursts of yellow and mint green) downer fantasy, with a bleak view of the world, still combines bursts of imagination (with its inclusion of fantastic beasts, immortal warrior sects and black magic) and is a singular viewing experience.
47 Ronin is released (January 8, 2014) and distributed in the Philippines by United International Pictures (UIP) through Solar Entertainment Corporation.