Ms. Gigi Bautista, the owner and Gen. Manager of Pandan Beach Resort, formerly worked for Philippine Airlines (PAL) for 25 years, rising to the ranks to become Manager of PAL's Advertising and Promotions before retiring in 2008. That same year, she returned to her beachfront property in Pandan and got this idea of developing her family's vacation house, where her siblings spent their childhood until they pursued their respective careers, into a resort since Pandan is close to the very famous Boracay. The house still remains a place of family gatherings.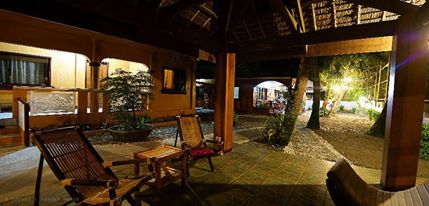 The resort's classy interiors
Gigi subsequently bought adjoining properties to expand the area where she would build her dream resort to the present 3,000 sq. m.. Even before that, she started building, with stone, wood and other indigenous materials, on her idea on what a beachfront paradise should be – tranquil, comfortable and homey.
For her, guests should hear the whispering of the waves and watch the dramatic setting of the sun or gaze at the stars while lying on a hammock or balsa (bamboo raft) and sipping a cool cocktail. With her impeccable taste unusual for someone who wasn't formally educated in interior design, Gigi also added pieces of the family's heirloom furniture to the classy but rustic interiors.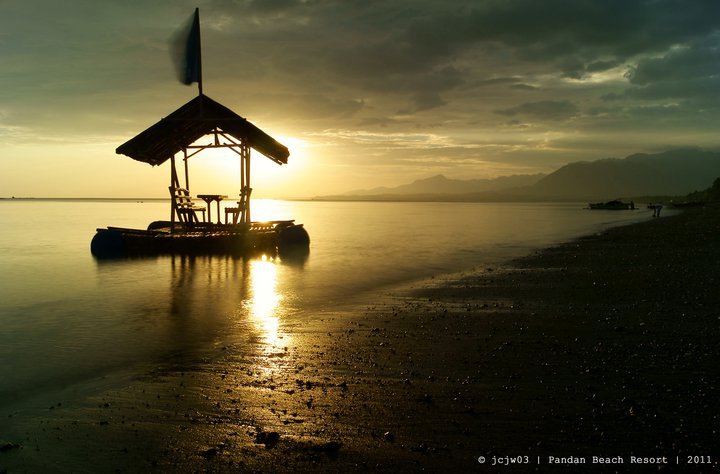 A nice touch are the colorful paddles hanging in each room.
She also designed the landscaping, planting coconut, avocado, langka and pandan trees to provide shade (the pandan was also used for their welcome drinks), and a place to hang a colorful and relaxing hammock, as well as orchids and ornamental flowering plants.
After three years of planning and construction, she formally opened the resort on April 2011. On October the next year, she also opened Marquesa's Bistro Bar& Restaurant, named after one of her daughters. Two months later, the resort was featured in a colorful, 4-page spread in Asian Journal Balikbayan Magazine (a Filipino community newspaper since 1991).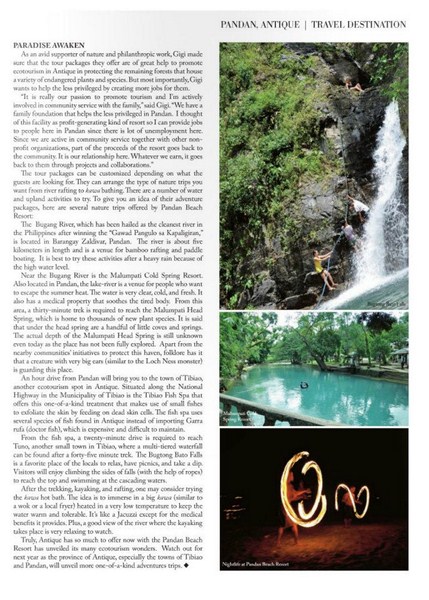 To promote her resort, Gigi also came up with unique amenities and tour packages that include upland and water nature activities and local immersions that Boracay doesn't have. These can be customized, depending on what the guests are looking for.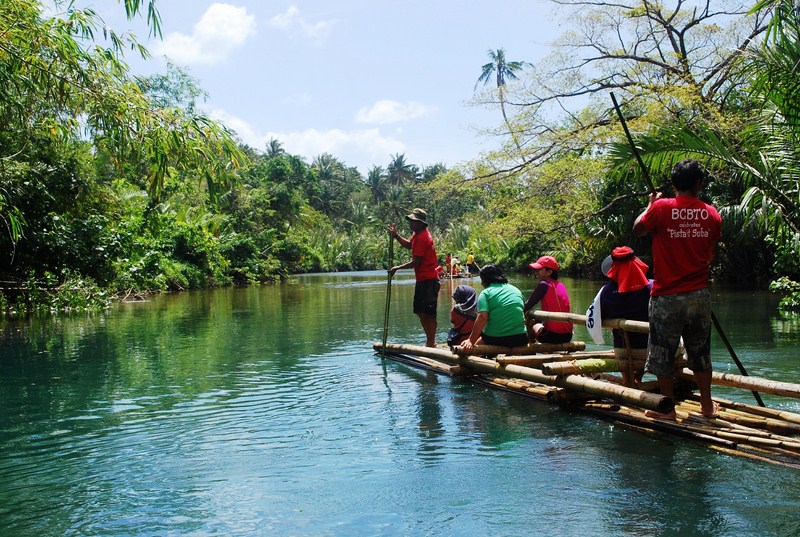 Bamboo rafting at he Bugang River
These activities include bamboo rafting or paddle boating along the 5-km. long Bugang River, one of the cleanest rivers in the Philippines and 30-min. treks to the Malumpati Head Spring,home to thousands of new plant species, all within Pandan; or 50 kms. further away (an hour's drive) to Tibiao, another ecotourism paradise, where you can kayak along the Tibiao River or go hiking and swimming at the multi-tiered Bugtong Bato Waterfall in Brgy. Tuno. You can also go ziplining or wall climbing in both towns. After all these activities, you can exfoliate your skin at a fish spa or relax your tired muscles at a kawa hot bath, both one-of-a-kind activities in Tibiao.
Gigi is also an avid supporter of nature and philanthropic work, setting up a foundation to do so. With her eco-friendly tour activities; she helps promote ecotourism in Antique, thus protecting the remaining forests that house a variety of endangered plants and species. But, most importantly, these also help the less privileged in Pandan by creating more jobs for them. To help promote Pandan's cottage industries, the resort also provided free marketing assistance and advice, as well as free retail space, to a group of individuals who hand-make the products that are sold at the resort's souvenir shop.
The foundation also sponsors the "Dasigay Bugsay" Boat Race, held during the annual Aril 24-25 Pandan town fiesta; an Educational Scholarship Program (tuition fees, board and lodging, books, etc.) for selected students who show good potential for academic excellence and leadership; and the Pandan Bay Youth Band, an after-school program that provides students with the opportunity and the means to develop an appreciation for music.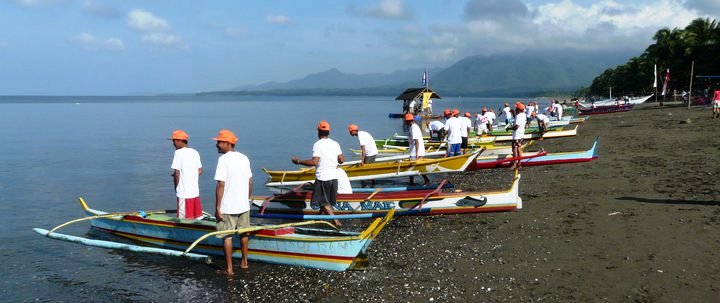 The Dagisay Bugsay Boat Race
The foundation also provides short-term loans (between US$100 and US$500 each) to individual fishermen to enable them to purchase fishing equipment and supplies.
In collaboration with the Pandan municipal government, Pagtatap Foundation Philippines and Pagtatap USA, the foundation also arranges and finances the annual visit of volunteer doctors, surgeons, dentists and nurses from the Makati Medical Center to provide medical and dental treatment, as well as conduct both minor and major surgeries, for the poor people of Pandan.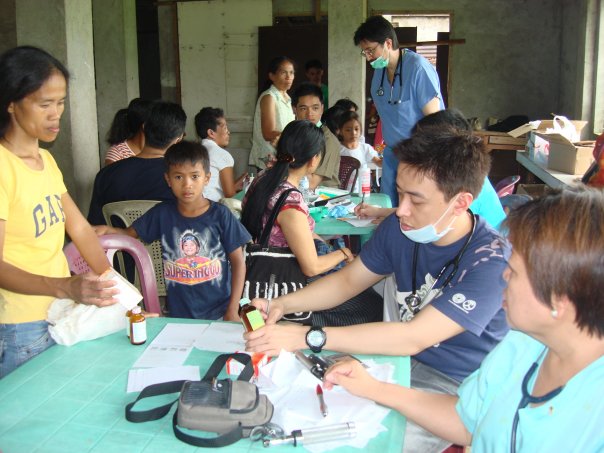 Medical mission for the poor of Pandan
The foundation also gives donations or, otherwise supports, the local government's programs to develop or promote technical education and skills, protect the environment or provide medical and financial support to distressed families.