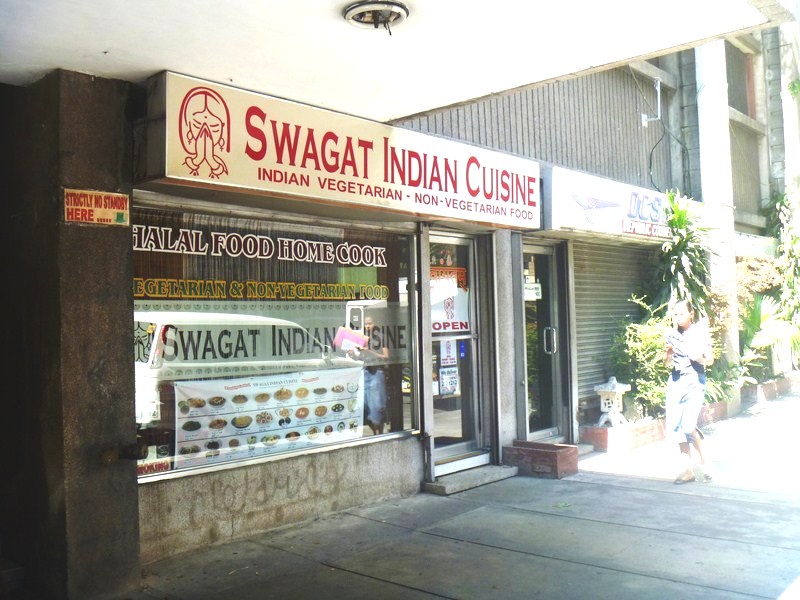 Swagat Indian Cuisine
I've done a lot of food blogs before but never one on an Indian restaurant and I was looking forward, upon invitation by event organizer Bernard Supetran, to do one for Swagat Indian Cuisine in Makati City together with other invited members from media (Travel Plus and Metro Magazine). "Swagat," incidentally, is a Hindi term meaning "welcome."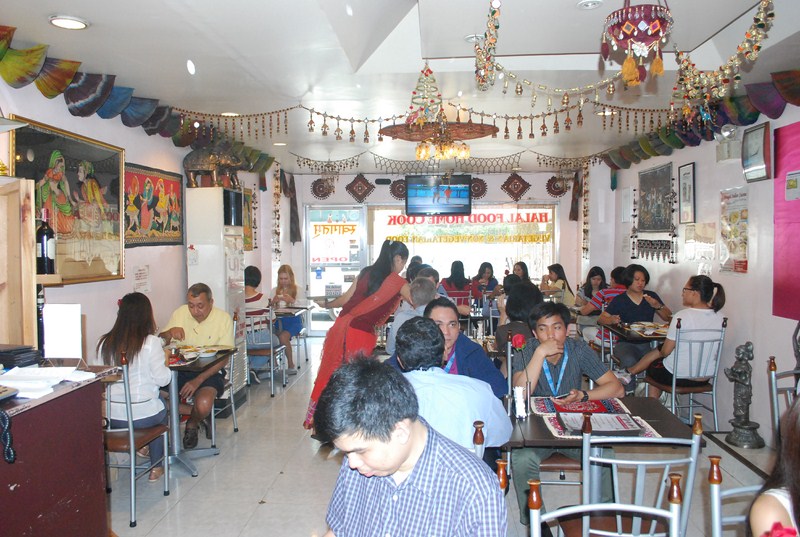 The restaurant's Indian-themed interior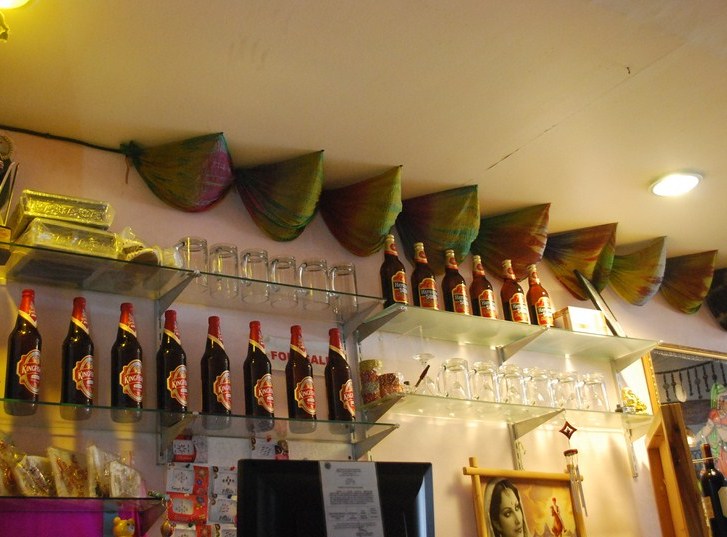 This wouldn't my first time to try Indian cuisine as I've eaten at an Indian restaurant in
Singapore
's
Little India
(a truly "hot" initiation to this kind of cuisine), but this would be my first time to do so in the country.
For company, I brought along my son Jandy. We arrived at the obscure hole-in-the-wall by 1:30 PM, normally a lean period for a restaurant, but the 42-pax dining area was still packed with patrons, surprisingly mostly Filipinos (only about 20% of their clientele are Indian).
Despite its lack of superficial allure, I still felt the very inviting ambiance of a cozy, no-frills dining room in a suburban Indian home.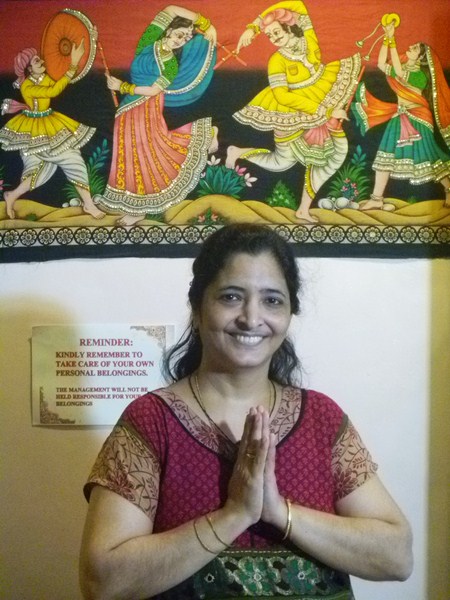 Ms. Komal Khanchandani
A few framed Indian hand-weavings and brass statues decorated the walls and ceiling, the soft strains of Indian music were being played and the wall-mounted flat-screen TV was showing Indian
Bollywood
movies.
Even the waitresses wore the traditional
sari
. All throughout the dining area was the aromatic smell of Indian spices.
We were welcomed by restaurant owner Ms. Komal Khanchandani. The hardworking and self-effacing Ms. Komal, who hails from the southern Indian state of
Andra Pradesh
, and her husband Sanjay have been living in the country for nearly 2 decades and are now Philippine citizens (she speaks fluent Tagalog with a slight Indian accent).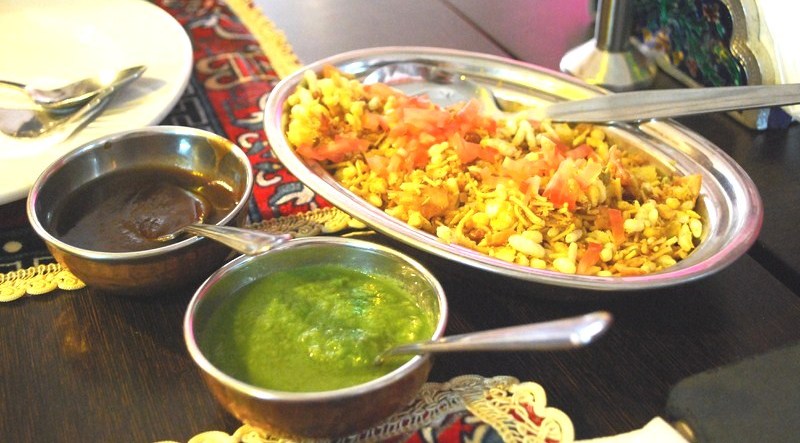 Bhel Puri
She opened Swagat Indian Cuisine over a decade ago (they celebrated their 10

th

anniversary last May) and Ms. Komal is the restaurant's proprietress, cook (in keeping with her own standards) and manager all rolled into one.
She sources almost all the ingredients locally save for the hard-to-find masala (Indian spices), the "heartbeat" of an Indian kitchen, which are sent by to her by her relatives via DHL or brought home with her during occasional trips back to her homeland.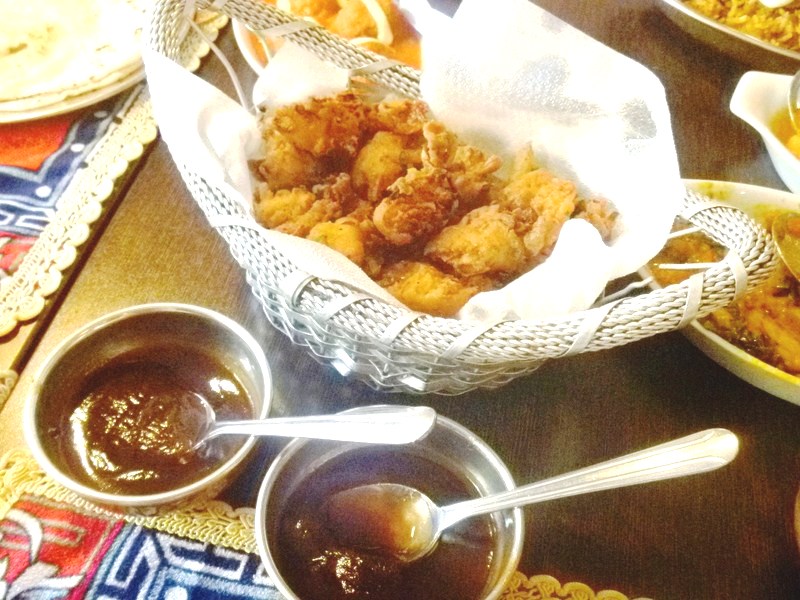 Onion Bhagia
As a restaurant policy, all orders are done to a customer's liking and Ms. Komal inquired as to whether I wanted my food mild, medium, hot or extra hot.
As a precaution, being not a fan of spicy hot cuisine, I chose mild. They had a well-rounded and extensive menu to choose from, with a wide selection of deep-fried appetizers, Indian bread, chicken, fish, mutton, biryani, dal (lentil soup), paneer (Indian cottage cheese), seafood, desserts and a plethora of vegetarian dishes (Ms. Komal herself is a vegetarian) plus a wine list; all at affordable prices. Swagat is also a "halal" certified restaurant that caters to Muslim visitors and expats.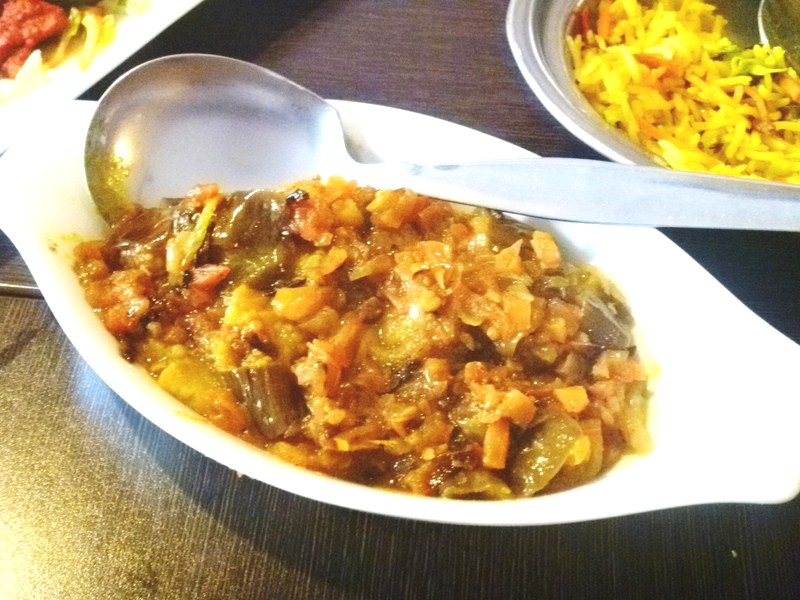 Mutton Masala
For appetizers, Ms. Komal prepared Bhel Puri (PhP100), an extremely popular preparation of puff rice and sev (a popular variety of Indian snack food), served with tamarind and mint chutney (they tasted like Rice Crispies with a spicy Indian touch).
Next was Palak Pakora (PhP170), sliced spinach and spices rolled in chickpea flour and then deep fried; Baingan Bharta (PhP110), roasted eggplant in curry sauce; Malai Kofta, a classic North Indian dish made with cheese and vegetable patties cooked in a creamy butter sauce; and Onion Bhajia (PhP110), sliced onions and spices rolled in chickpeas flour and then deep fried.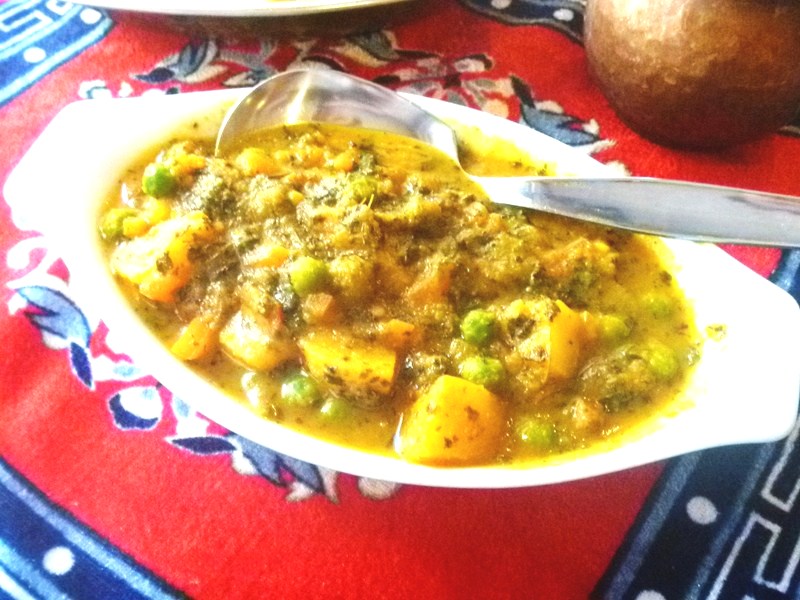 Methi Aloo Matter
One dish then followed another and, for the main course there was Chicken Tikka (PhP200), tender, skinless and boneless chicken marinated in a blend of ginger and garlic.
Then we were served Fish Palak (PhP155), fish cooked in mild spices, with spinach and sauce.
This was followed by Mutton Masala (PhP185), goat meat cooked in onions, tomatoes and Indian spices with a little sauce added. Finally, there was Methi Aloo Matter (PhP140), potatoes with green peas cooked with fenugreek leaves and flavored spices.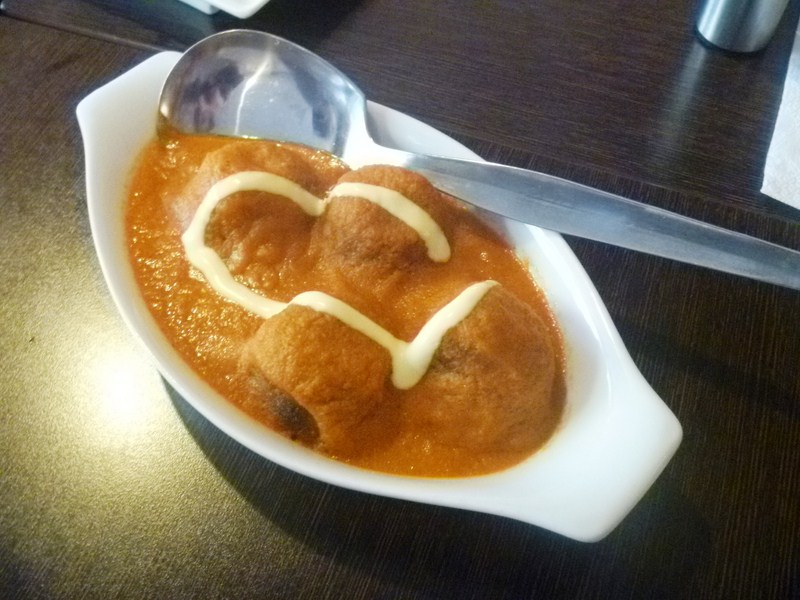 Malai Kofta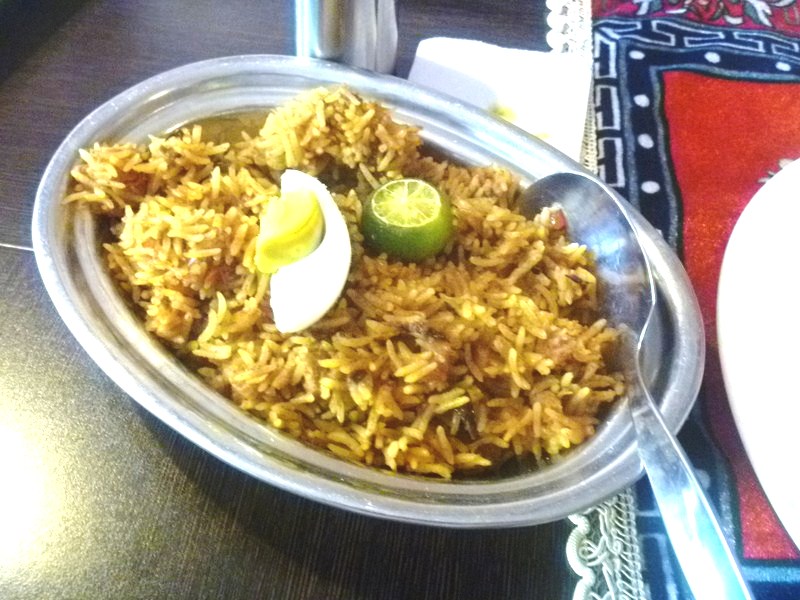 Sangam Biryani
For those of us who preferred rice, we had the choice of biryani, the Indian version of the Spanish paella.
The Shrimp Biryani (PhP225) had shrimps cooked with special Indian rice and flavored spices while the Sangam Biryani (PhP225), a Swagat bestseller, featured lean tender pieces of chicken and lamb cooked with freshly ground herbs and spices in cream Mughlai sauce with Indian rice and garnished with nuts and raisins. Incidentally, the word sangam (literally meaning "meeting place") was the name of Komal's first food venture - Sangam Cafeteria, formerly located at the basement of the Cityland Bldg. along Pasong Tamo (now Chino Roces Ave.).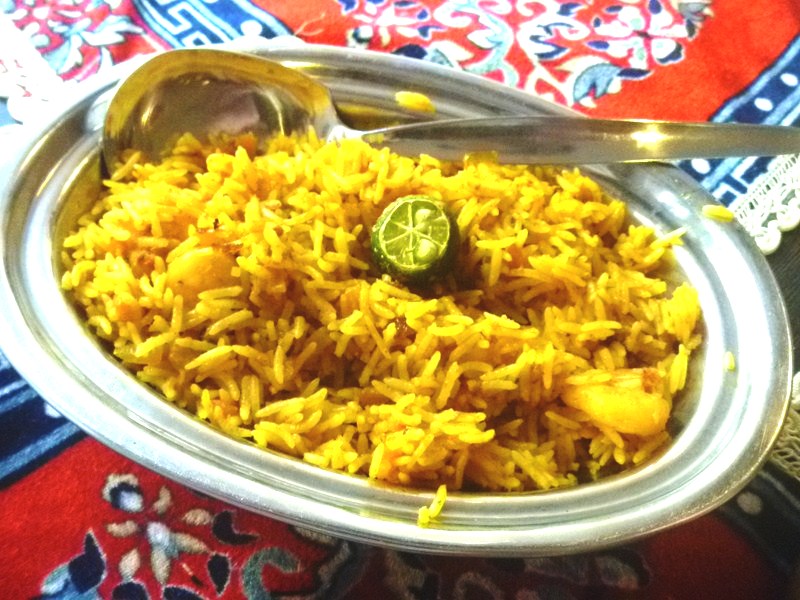 Shrimps Biryani
For the others who were not into rice, we availed of whole wheat dried bread called roti (PhP15); or all-purpose dried bread called naan (PhP35-60, plain, buttered, garlic or cheese), similar to a Mexican tortilla, to go with our main dishes.
All these we washed down with refreshing Indian drinks called lassi, homemade sweetened yoghurt drinks with milk and flavored with either strawberry, mango or rose petals (PhP70).
Overall, it was a delicious and enlightening dining experience.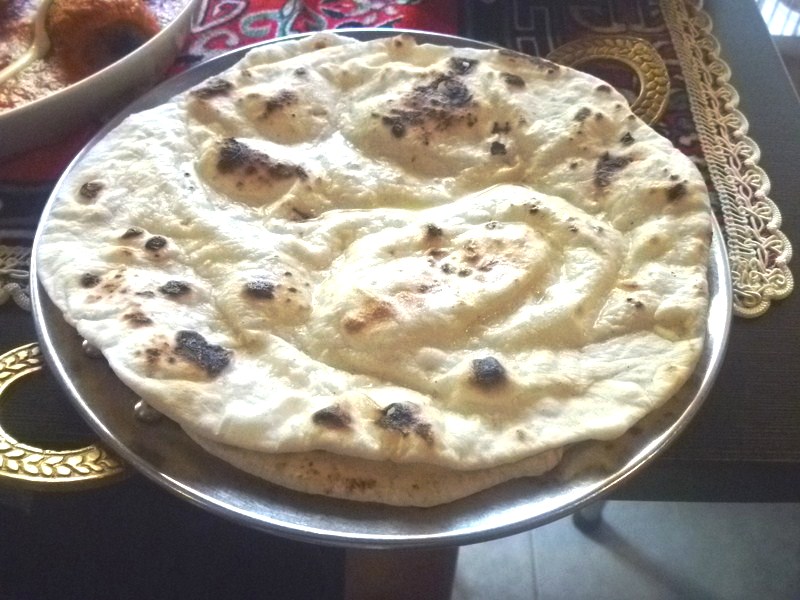 Roti
Naan
Last April 8, 2006, during the Global Brands Seal of Quality Awards held at the DTI-Philtrade Hall,
Swagat Indian Cuisine was awarded as the "Most Excellent Indian Restaurant in the Philippines."
Last January 6, 2006, during the Philippine Quality Awards for Business Excellence held at the Hotel Intercontinental, it was conferred the title as th
e "The Most Outstanding Indian Cuisine (Metro Manila Awards)."
Finally, in 2012, it was recognized as one of the best restaurants by Esquire Magazine Philippines.
It also earned nominations, in the Indian category, of the Manila Best Kept Secret Restaurant Awards. Truly, Swagat deserves its reputation as one of the best authentic Indian restaurants in the country today.