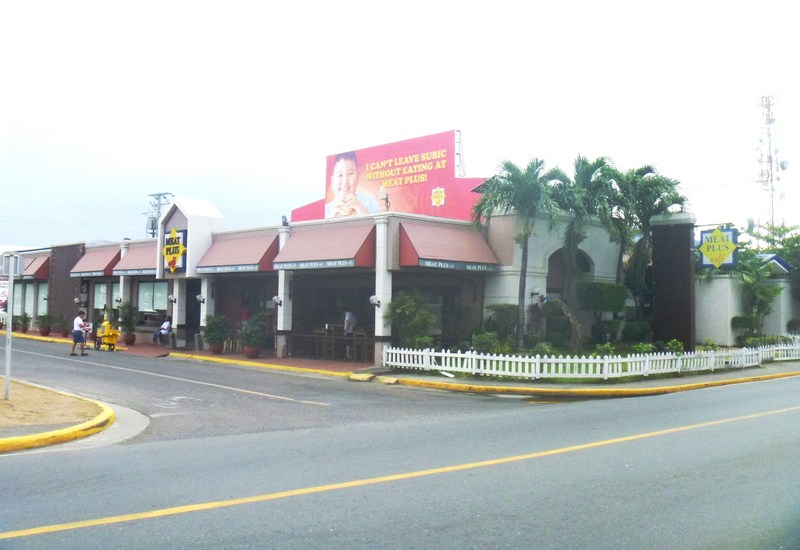 Meat Plus Cafe
We were now on our last day in the Subic Freeport Zone and we just about had our fill of Subic's disciplined and orderly traffic system; the Duty-Free outlet shops and their amusing, Americanized convenience stores; but we just couldn't have completed our dining experience without trying out another longtime Subic landmark – Meat Plus Café.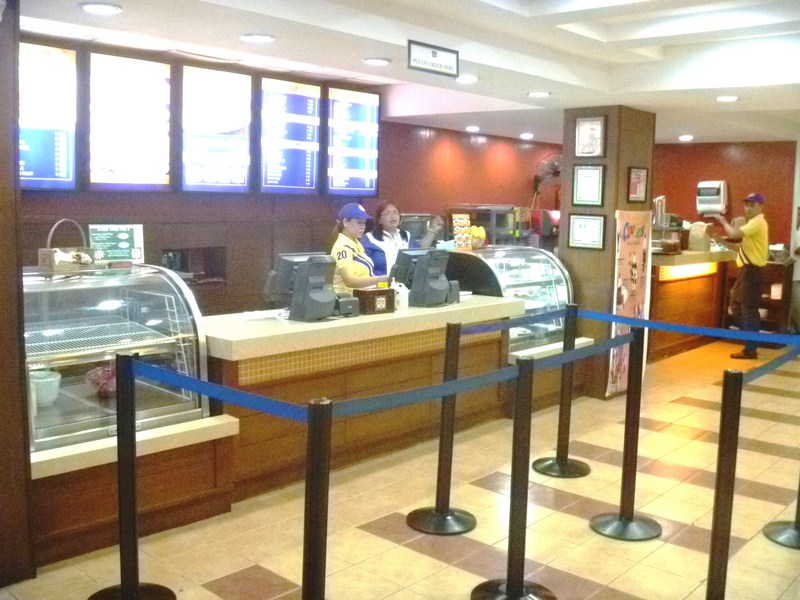 The restaurant's service counter
Obviously, their menu is all about meat. At first, I thought it was just a meat market selling choice cuts of various meats. Boy was I wrong.
Actually, this is one place to go in Subic if you want drool-worthy, tender and succulent sirloin, porterhouse, T-bone, rib-eye, ground round and tenderloin steaks, all cooked the way you want it (medium rare, medium well or well done), plus hamburgers, pasta dishes, pizza, sandwiches, hot soup, salads, fresh fish, desserts and more, all at reasonable prices. Truly, good value for money.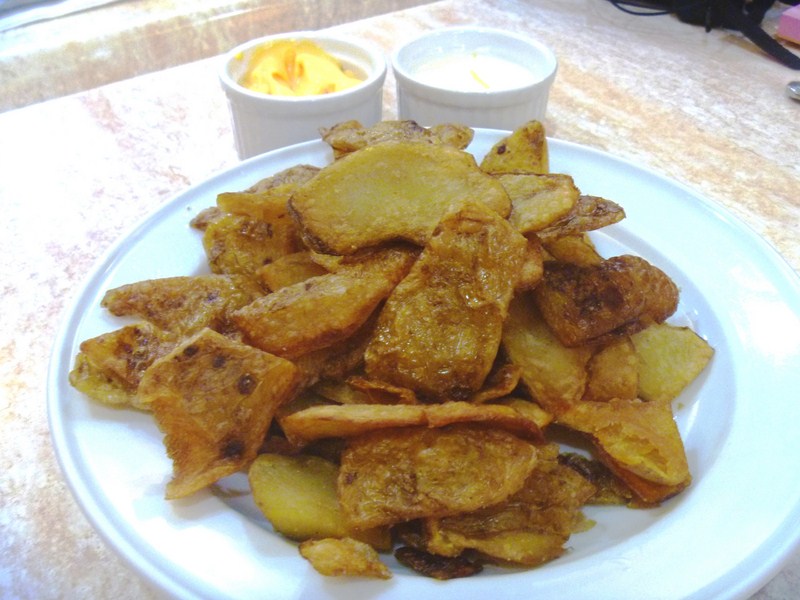 Potato Skins with 2 dips
Meat Plus Café started out as a small, cramped "hole in the wall" with about 2 to 3 tables in 1997.
Their delicious char-grilled steaks made it popular and, even with the closure of the naval base (when several restaurants and business establishments also closed down), Meat Plus held on, innovated and grew bigger, better and stronger.
Still at its same location, across Duty-Free shops, it rapidly expanded in recent years and now has a 110-pax, 600 sq. m. main dining area, 3 interior function rooms (50, 70 and 90-pax) and even a 20-pax al fresco dining area out front.
Last year, it opened an outlet at the Clark Freeport Zone (Pampanga) and even expanded in Metro Manila with another restaurant chain called Tender Bobs which also offers a similar menu as Meat Plus but in a formal, fine dining atmosphere.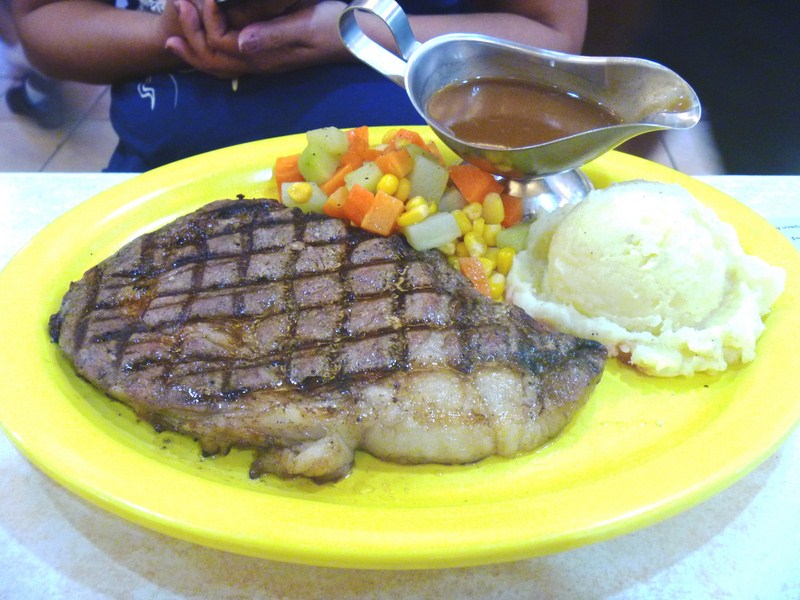 Rib Eye Steak - A Meat Plus bestseller
We were supposed to try out what it offered come lunch time but the place was already jam packed with tourists and locals (mostly big groups of families), it being a long weekend because of the Chinese New Year holiday. We made another go at it, this time arriving at 5:30 PM for an early dinner. We were welcomed by Ms. Ma. Teresa "Tet" M. Cabaylo who started out in the company as an accountant in 1994 and went on to become the restaurant's manager. The dining area had a very casual, no frills setting, almost like a cafeteria. Perhaps, that's their charm.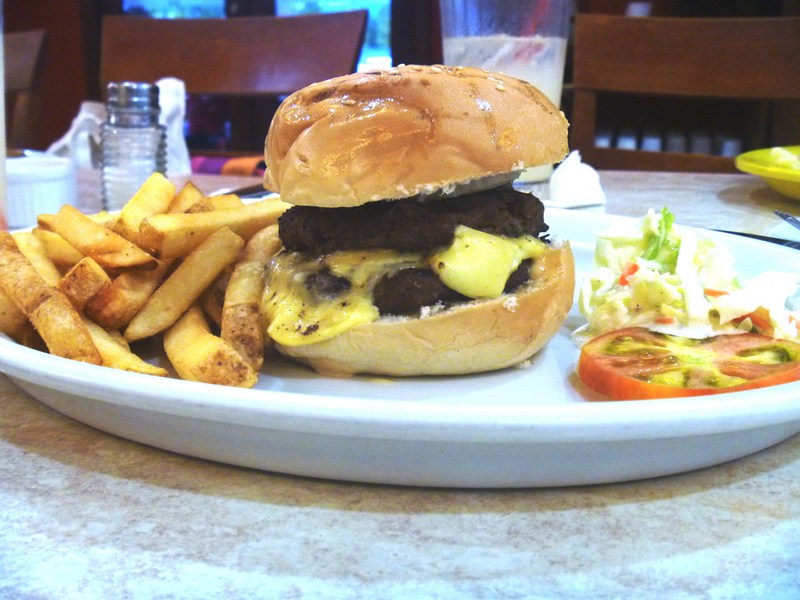 Meat Plus Burger with French fries, coleslaw
and veggies
To maximize our Meat Plus experience, we each chose different meals – Sea Burger (PhP125) for Lally, the U.S. Angus Beef Tapa (PhP285) for Mae, the Meat Plus Burger with Fries (PhP225) for me, the Barbecue Short Ribs for Bernard, and the restaurant's bestseller, Black Angus Rib-Eye Steak, for Arabelle.
Prior to the arrival of our orders, we were served very thin, lightly salted and crispy bite-size slices of Potato Skins which went well with two dips - cheese sauce and creamy garlic. Their customer-oriented staff, even in full fast food mode (no need to suffer the hunger), were very efficient, friendly and accommodating, always there to help you out if you have any extra orders.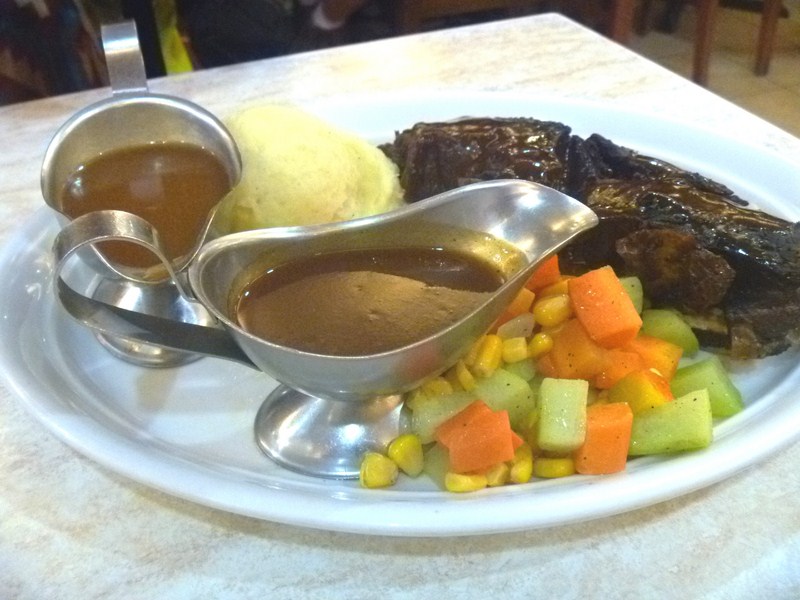 US Barbecue Short Ribs with veggies and mashed potato
Our orders soon arrived and the portions served were quite generous. The steaks, served with vegetables (corn, string beans, carrots), were big, decently thick, tender (you don't really have to use a steak knife to cut it into pieces) and well marinated and grilled to perfection, with fat linings in the edges and a smoky barbeque flavor that is savory and delicious.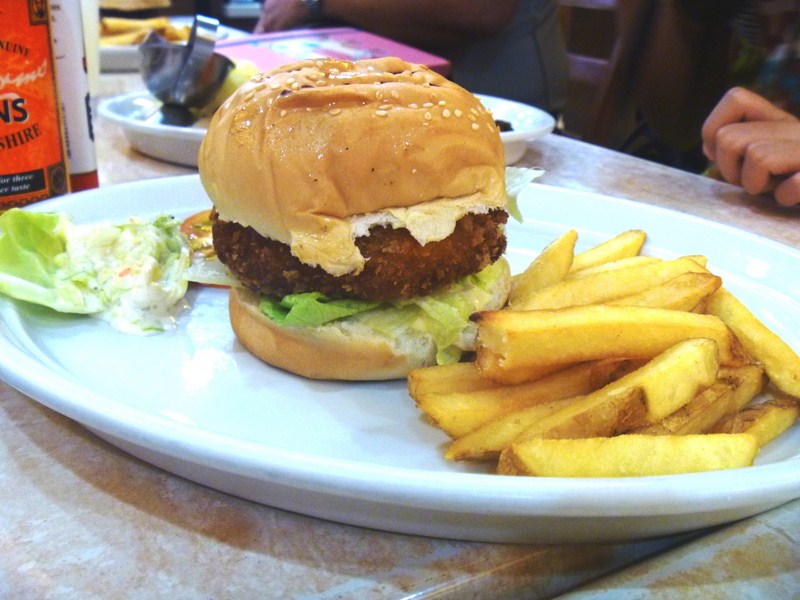 Sea Burger with French fries and coleslaw
My Meat Plus Burger, with its cheese slice between two beef patties plus a slice of tomato and grilled onion, was really good. Coupled with the French fries, a siding of coleslaw and a drink, it provided for a really filling meal.
The Sea Burger (a recent addition), with its generous serving of cream dory, was fried to a golden crisp.
The equally tender U.S. Angus Beef Tapa was served with a fried egg, atsara (the Filipino equivalent to the pickle relish) and mashed potato (in lieu of rice) coated with a layer of gravy. They complemented our meals with a dessert of classic, freshly baked and yummy Apple pie (PhP115/slice) with a scoop of vanilla ice cream.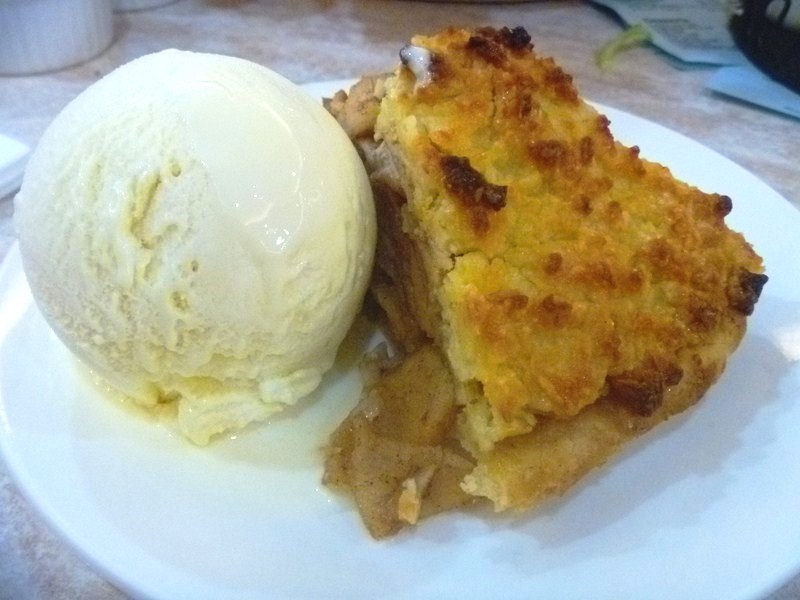 A slice of apple pie with a scoop of vanilla ice cream
By the time we were done eating this delicious and filling repast, the restaurant was already filling up. Seemingly well adjusted to their growing popularity, during peak dining hours (12 noon to 1 PM and 6 to 7 PM), Meat Plus'management has installed a simple system to avoid table grabbing by assigning seating before you enter the restaurant and before you queue up to order.
Like a tradition, it's proof of how good their meals must be - you go in dead hungry and come out full and happy! They say that if you've not eaten at Meat Plus, you've never completed your Subic visit. That's putting it lightly. For me, it would be a crime to go to Subic without dining at Meat Plus Cafe.
Meat Plus Café: Bldg. 65, 6 Sampson Rd, Subic Bay Freeport Zone, Zambales. Tel: (047) 252-6090. Fax: (047) 252-7091. Opens daily, 10AM – 9 PM.