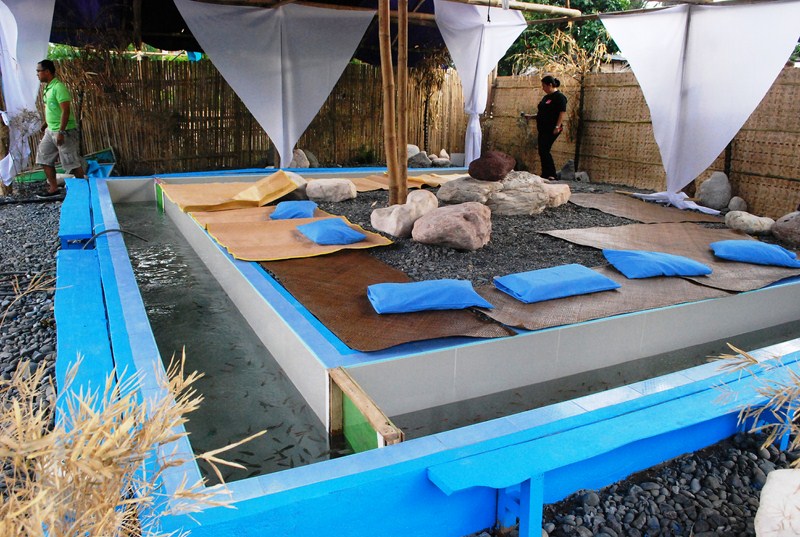 Tibiao Fish Spa
The unique and much talked about Tibiao Fish Spa was opened in June 2009 by Flord Nicson Calawag, a 2008 Marine Fisheries graduate of the College of Fisheries and Ocean Sciences of the University of the Philippines in the Visayas (UPV), Miag-ao, Iloilo (he placed 8

th

in the 2008 Fisheries Technologist licensure exam). One of a few of its kind in the country, it is considered as the most affordable fish spa in the world. A form of ichthyotherapy (from the Greek word ichthy meaning "fish"), this fish spa has to be seen and experienced by young and old alike.
Stage 1 Tank: micro-massage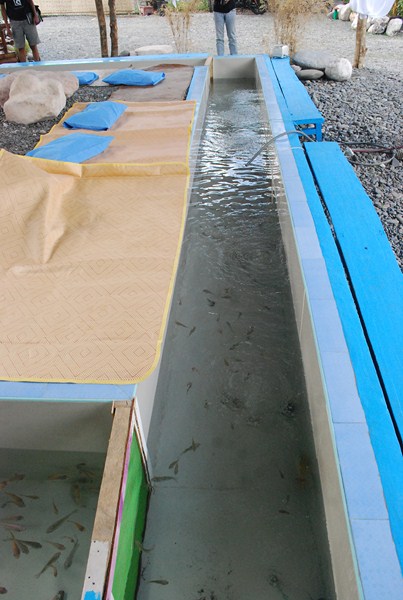 Stage 2 Tank: removing dead skin cells
This fish spa, formerly located at Flord's residence, was transferred to an 800 sq. m. lot about 1.5 kms. away from his residence after the November 9, 2013
Typhoon Yolanda
(international name: Haiyan) hit
Tibiao
, severely damaging his residence as well as the rest of the town.
Before one indulges at this one-of-a-king experience, you have to wash your feet well before dipping it in the pool.
While most Asian fish spas use imported "doctor fish" (Garra rufa) from Turkey, which are costly to acquire and difficult to maintain, Tibiao Fish Spa uses an indigenous and locally-bred fish species called Therafish from Antique.
The unique feature of the fish is its sandpaper texture teeth. In this way, it effectively exfoliates dead skin. Aside from fish therapy, they also offer reflexology and massage.There have been studies wherein interactions with animals have been found to have therapeutic and
calming
benefits on children with
autism
.
The fish spa offers three different tanks that houses levels 1, 2 and 3 therapy fishes. As the stage goes higher, the fishes get bigger.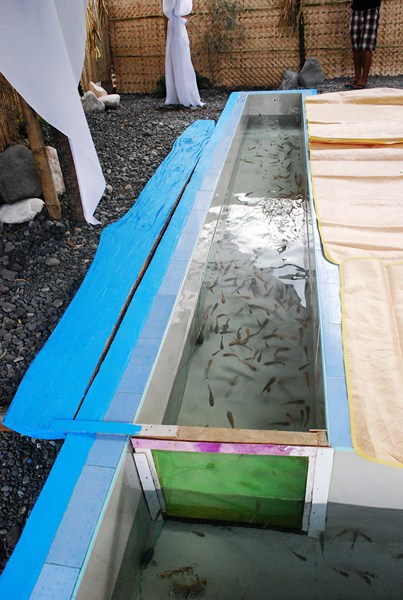 Stage 3 Tank: removing soft
calluses and thicker patches of skin
Stage 1 does micro-massage, Stage 2 removes the dead skin cells while Stage 3 does the heavy-duty work of removing the soft calluses and thicker patches of skin.
The water, which is slightly chlorinated, is changed once to three times daily, plus a recirculating system continuously subjects the water to sediment and activated carbon filters as well as UV sterilization.
At first, you might feel uncomfortable having your feet pecked, nibbled or tickled by hundreds of these little fish.
But, after a few minutes, you may soon find it to your liking and get the hang of it, learning to just relax, lie down on a pillow and have a nice nap while listening to music and letting the little sea creatures do their work "eating up" the dead skin cells, calluses and cuticles of your feet. At the same time, they stimulate pressure points to relax the body and release stress.
Truly, an exciting, exfoliating and soothing sensation that's worth a try as it is safe and totally pain-free.
Other branches are found in SM City Iloilo, opened on October 20, 2010; SM City in Pampanga, opened in 2012; and General Santos City (South Cotabato), opened on March 15, 2014.
Tibiao Fish Spa: Purok 12, Brgy. Malabor, Tibiao, Antique. Cost: PhP100 for 30 minutes. Students are charged a discounted rate. Mobile numbers: (0919) 813-9893 and (0917) 631-5777. E-mail: flord@tibiaofishspa.com. Website: www.tibiaofishspa.com.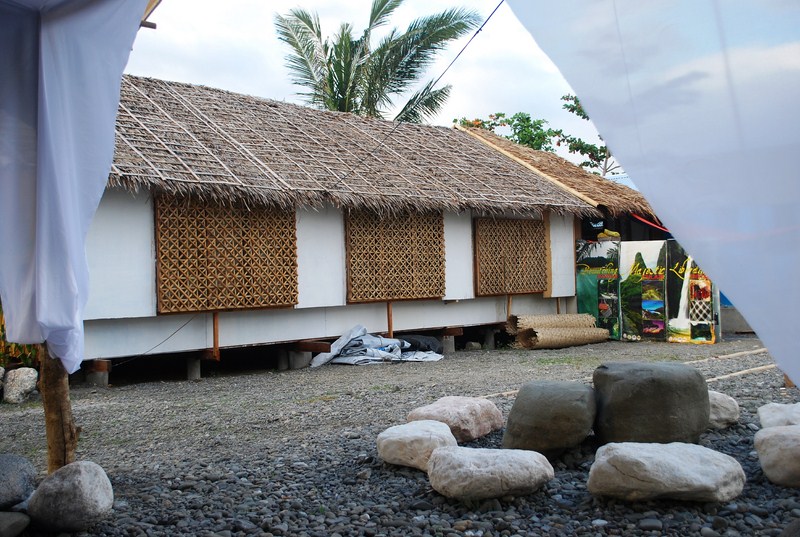 Tibiao Fish Spa: Lower Ground Floor, SM City Iloilo (beside Baron Barber Shop and in front of Iloilo Bingo), Benigno Aquino Drive, Mandurriao, Iloilo City, Iloilo. Tel: (033) 302 9897.
Rates: Classic Fish Spa (30 mins. PhP120), VIP Fish Spa (45 mins., PhP250), Full body massage (1 hr., PhP350), Half body massage (40 mins., PhP250) and Foot reflexology (20 mins., PhP100).
Tibiao Fish Spa: 2/F, Cinema and Food Court Area (beside David's Salon and in front of Chowking), SM City Pampanga, NLEX cor. Jose Abad Santos Ave., San Fernando City, Pampanga. Tel: (045) 437-2574.

Tibiao Fish Spa: Ground Floor, SM City General Santos (across BDO), Santiago Blvd., Gen. Santos City, South Cotabato.
How To Get There: Tibiao is located 73 kms. from San Jose de Buenavista, 12.6 kms. from Barbaza, 17 kms. from Culasi and 89 kms. from Brgy. Caticlan (Malay, Aklan).